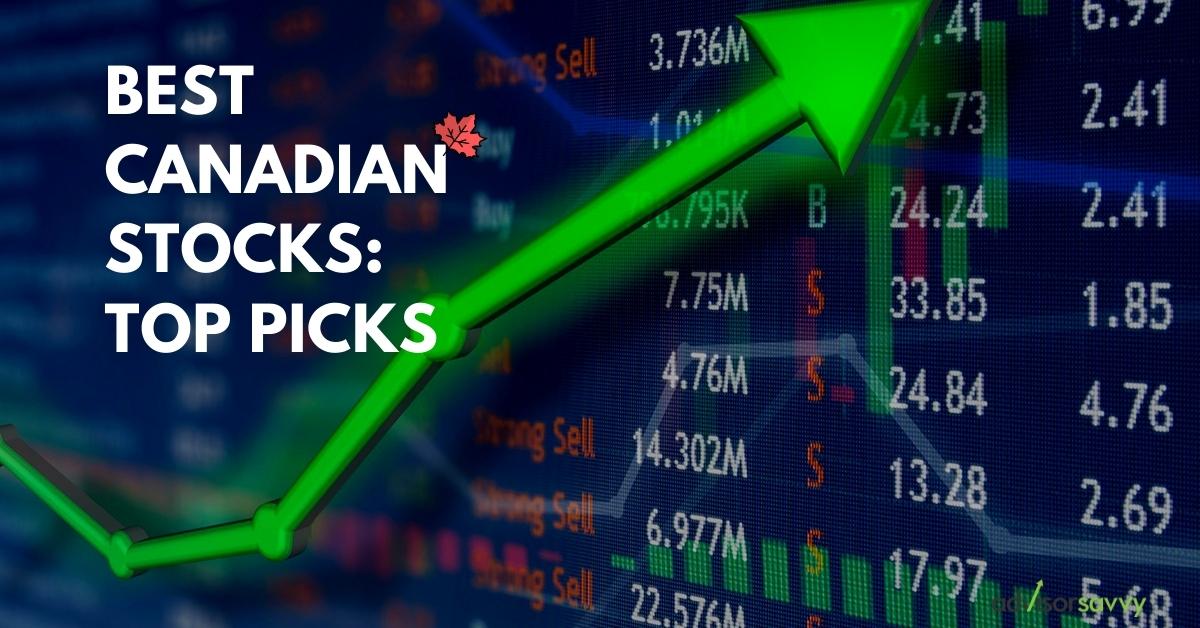 Investing in the stock market can be a wild ride with lots of ups and downs even in the best of times. And the coronavirus pandemic has had a huge impact on world markets. The Canadian stock market is no exception. Some stocks have dipped considerably because of lost revenues while others have soared, giving way to the best Canadian stocks.
In view of the current economy, Canadian investors have much to consider when deciding how and when to buy stock. You can buy stock in companies that have taken a big dip and make money as the economy rebounds. Or you can buy into those companies that are already headed upward if you feel confident that their growth will continue for the long term.
To help with your investment decisions let's take a look at the top picks for this year.

What are the best stocks to buy right now in Canada?
Financial Sector Stocks
Investing in sectors that have a strong stock performance history provides realistic expectations of future gains. One of the most survivable sectors is finance.
Canadian banks and other finance companies have weathered prior financial crises and prospered. They have established their long-term value and can add stability to your investment portfolio.
Despite the current economic strains of potential defaulted mortgages and small business bankruptcies, the banks will go on. You want to have at least part of your portfolio in a sector that should rebound relatively quickly following the coronavirus crisis. And these stocks also pay out dividends to shareholders which is an added incentive for investment.
Some of the top-performing banks in Canada are:
National Bank of Canada (TSE:NA)
CIBC (TSE:CM)
Bank of Nova Scotia (TSE: BNS)
Royal Bank (TSE:RY)
Gold and Energy Sector Stocks
Gold stocks tend to be the go-to investment when there is market volatility. Canada has a number of home-grown companies from which to choose the best Canadian gold stocks. As well, energy infrastructure company stocks continue to show strength. Here are a few stocks that have strong past performance and are recovering well from March/April 2020 dips.
Kirkland Lake (TSX: KL) This mid-sized gold producer has had an amazing 10-year return of 6730%. The stock is trading down from higher peaks of 2019. However, the stock price is showing good improvement.
Barrick Gold (TSX:ABX) Barrick is one of the world's largest gold producers. Like Kirkland Lake, Barrick Gold took a major dip in March/April this year but is moving back up.
Enbridge (TSX:ENB) Serving Canada and the U.S., Enbridge does energy generation, distribution, and transportation. Following a major downturn this spring, the stock has demonstrated recovery. Enbridge is a dividend-paying stock which makes it appealing as a stable growth investment.
Tech and software company stocks
Coronavirus has impacted everything from how we shop to how we work and how our children learn. Many business leaders anticipate a new normal where remote working is much more prevalent. Canada's leading software company Shopify has announced it will close its brick-and-mortar offices permanently.
In this new era of remote connection, companies that provide digital services and enterprise software are expected to see high demand. All of the companies noted here have been ticking upward since spring setbacks.
Constellation Software (TSX:CSU) Constellation Software Inc is a Canada-based company that develops and customizes software for the public- and private-sector markets. It's an expensive stock trading in the range of $1500 per share.
CGI Group (TSX: GIB.A) CGI Group is a Canada-based IT-services provider with an embedded position in North America and Europe. This is another company that has bounced back with gusto from earlier setbacks.
Lightspeed (LSPD:CA) This company has been noted by analysts as the next potential Shopify. Lightspeed POS Inc. provides an omnichannel commerce-enabling SaaS platform. Its software platform provides customers with the functionality it needs to engage with consumers, manages their operations, accept payments, and grow their business. Lightspeed stock has been advancing well and is a good long-term bet.
OpenText (TSX:OTEX) Open Text Corp. grew out of a technology project involving the Oxford English Dictionary at Canada's University of Waterloo in the mid-1980s. Its software allows clients to archive, aggregate, retrieve, and search unstructured information (such as documents, e-mail, presentations). The company has made many acquisitions over the last few years and is showing stock price gains.
Companies with strong value in this economy
Well known investor Peter Lynch advises in his book "One Up on Wall Street" that you can invest just as well as a professional. He believes that people paying attention to products and services in their daily lives can help them make good investing decisions.
This is especially true when unusual events or market shifts are happening. At this time, home food delivery services and end-of-life service providers are seeing increased business. And vehicle repairs continue to be inevitable and contribute to the strength of Boyd Group.
Goodfood (TSX:FOOD) As a leading online grocery company in Canada, Goodfood delivers meals and groceries to members coast to coast for at-home dining.
Park Lawn Corporation (TSX:PLC) Park Lawn Corp provides goods and services associated with the disposition and memorialization of remains in Canada and the United States. It owns and operates cemeteries, crematoriums, and funeral homes, and funeral services business.
Boyd Group (TSX:BYD) Automotive Repair Boyd Group Services Inc. provides auto body and auto glass repair services at its portfolio of facilities located across the United States and Canada.
What are the best Canadian stocks to buy for 2020?
Researching stocks before investing is key. Especially for those of us who are not financial experts. When deciding on best Canadian stocks to buy right now, look at the company rankings by analysts. Pay attention to when companies have earnings announcements that could bump the stock higher – or see it drop sometimes dramatically lower. Read as much as possible about the sector and the stocks that you are investing in.
If you are looking for short-term profits from the best Canadian growth stocks, buying rising star stocks may be your best bet. But be aware that break-out stocks need careful monitoring to ensure they continue to boom — not a bust.
As discussed earlier, finance, gold, and energy sector stocks are among the best Canadian stocks to buy for 2020. In the technology sector, there are a few breakout stocks that are also worth considering.
Shopify (TSX:SHOP) This stock is an expensive buy, typically trading at more than $1,000 per share. A true Canadian success story, Shopify is at the top of the Canadian stock market. The company offers an e-commerce platform primarily to small and midsize businesses. The firm has two segments: subscription solutions and merchant solutions, and the company has continued to thrive year-to-date.
Kinaxis (KXS:CT) Kinaxis, Inc. provides planning and response management solutions. That includes enterprise cloud service for manufacturers and brand owners to drive multiple supply chain management, sales and operations planning. Stock has increased by 70% this year.
Real Matters (REAL:CT) Real Matters Inc. provides an application software platform to do property valuation, collateral risk management, and data analytic services over a cloud-based environment. This provider of network services for North American mortgage and insurance companies has enjoyed stock growth of 67% this year.
What Canadian stocks pay the best dividends
Based on best Canadian stocks to buy in 2019 and 2020 activity, several companies stand out as providing the best dividends:
Enbridge Inc. (TSX:ENB)
Bank of Nova Scotia (TSE:BNS)
CIBC (TSE:CM).
What are the top 10 dividend stocks
The dividend yield is the percentage result you get when dividing the current yearly dividend payment by the share/unit price of an investment. It's a good indicator of how well a stock is doing and how well rewarded you will be for investing in a particular company.
Using dividend yield to compare results, here are the Canadian companies we consider to be the top 10 best Canadian dividend stocks to buy and hold:
Keyera Corp (TSX:KEY) with 8.2% yield
Cominar Real Estate Investment Trust (CUF.UN) with 8% yield
Gibson Energy Inc. (TSX:GEI) with 6.1% yield
RioCan Real Estate Investment Trust (REI.UN) with 5.27%
National Bank of Canada (NA) with 4.85%
CIBC (TSE:CM) 4.83%
Bank of Nova Scotia (TSE:BNS) with 4.22%
Royal Bank (TSE:RY) with 4.01%
iA Financial Corp. (TSX:IAG) with 4% yield
Imperial Oil (TSX:IMO) with 3.5% yield
One additional stock to consider for dividend growth investing is Alimentation Couche-Tard (TSX:ATD.B) which operates a network of convenience stores. This company has an excellent dividend even though it is a low yield of approximately .71%. However, the payout ratio is 10.28% and dividends have grown 25.10% annually for the past 5 years.
What are the best Canadian stocks to buy and hold?
Looking at the past decade of performance, among the best Canadian stocks to buy and hold are:
Dollarama (DOL:CT) Who would have guessed that a company selling general merchandise through discount retail stores would be a strong stock play? Selling goods priced at a toonie or less, Dollarama's stock growth of over 1000% over the past decade is impressive. This is a stock that is likely to be a good performer over time.
Enghouse Systems (TSX:ENGH) This company provides software and services to a variety of end markets. Enghouse stock has bounced back quickly from spring pullback. Over the past 10 years, the stock has appreciated 1180%.
Financial Sector As discussed earlier, stock purchases in Canadian banks and established financial companies typically provide a stable, long-term investment.
What other categories of stocks should I invest in?
When looking for the best Canadian stocks to buy now, it pays to consider the current economic challenges. What sector or business could actually benefit from the current market dynamics? Here are some opportunities to consider:
Pot stocks: Cannabis stocks were stock market darlings when legalization was announced. But the market cooled greatly over the last year due to challenges in the supply chain and regulation. However, there has been a recent recovery among the best Canadian marijuana stocks. Pot stocks coming back from the brink have included Aurora Cannabis (TSX:ACB), Canopy Growth (CGC:UN), and HEXO (HEXO:CT). Watch for more recovery ahead for other hemp and pot stock producers.
Transportation stocks: With on-line ordering growing exponentially, companies providing transportation for goods are attracting increased business. CargoJet, Inc. (CJT:CT) is one company benefiting from the trend. The company operates air cargo transportation services throughout Canada, and in Bermuda and Poland.
Home food delivery stocks: Popularity of meal and grocery delivery services is increasing rapidly. Goodfood (TSX:FOOD) is well-positioned with the coast-to-coast capability to deliver quality food to Canadians.
How can I reduce my investment risk?
It's hard to assess company valuations at a time when earnings may have slowed to a trickle. Analyst reports can help you assess whether companies are undervalued and therefore are expected to do better going forward. Or a stock might be rated as very overvalued, having had a big run during the current crisis that could level off fast.
Look at how companies were doing before the pandemic. Were their earnings strong and were they in a good position to pay out dividends? If a company had strong fundamentals going into the crisis, they may be better positioned on the other side of the pandemic.
One method to mitigate your risk is to spread your investment over time. Do you want to put all your available funds into the market at this volatile time? Or do you just want to dip a toe in the water for now? Dollar-cost averaging may be the answer. That means investing a set amount of money in the market over a period of time.
For example, let's say that you have $24,000 you want to put into the market. If you invest $2,000 each month for a year then if stocks take a dip you only lose some of your $24,000 investment at any given time during the next year. And your investment has the opportunity for recovery overtime beyond that one-year horizon.
Going forward with confidence
There are many things to consider as you build your portfolio with the best Canadian stocks. You may be handling your own investments or relying on a professional advisor. Either way, being well informed helps, including Advisorsavvy's top stock picks for 2020.