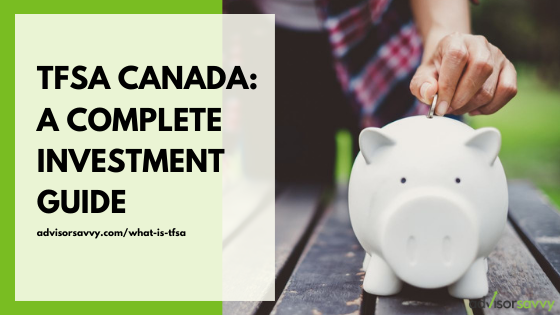 There are many different savings tools you can use to set aside money for a rainy day. The introduction of the TFSA — a new type of savings account — has broadened those options. They sometimes offer higher returns than a typical savings account, without it being hard to access or costly to withdraw from.

What is a TFSA?
Back in 2008, the federal government announced the creation of a Tax-Free Savings Account (TFSA). The option is meant to encourage Canadians to save, with funds that remain accessible and generate tax-free income.
How does the TFSA work?
A TFSA works like any savings account, in that you set aside whatever money you want (up to a government-set maximum) and you can remove it whenever you want, without penalty. The money, while in the account, will accrue interest. What sets it apart is that the interest that would typically be subject to taxation in an unsheltered account, is tax-free when invested in a TFSA.
Do you have an active will?
You need one. Find out how Willful can offer you affordable peace of mind.
Do you pay taxes on TFSA?
You do have to pay tax on amounts contributed to a TFSA, but do not pay tax on any interest earned. Unlike a registered savings account, funds can be withdrawn tax-free (since income tax has already been paid on the money).
How to open a TFSA
Visit your financial institution, credit union or insurance company to set up an account. When you go, you will be asked to provide your social insurance number in order for it to be set up and registered with the government.
How much money can I put in my TFSA?
TFSAs are a great savings tool with very few limitations. However, there is one significant limitation – how much money you can put in the account in any given year. In a perfect world, you pack that account with as much money as possible to reap the greatest benefit of the tax savings on the interest. The annual maximums have varied from $5,000 per annum, all the way up to $10,000, so it's a good idea to double-check your contribution limit with a TFSA calculator.
Can I have two TFSA accounts?
You may have multiple accounts but your contributions to them can not combine to exceed the yearly maximum.
Do you lose the TFSA contribution room?
No. Unused TFSA contributions are carried forward each year. If you've never invested in a TFSA before 2019, you can make up for the lost time by contributing your maximum, up to $63,500.
What is the TFSA contribution limit for 2019?
The TFSA limit for 2019 is up $500 from last year, from $5,500 to $6,000.
What will the TFSA contribution limit be in 2020?
The TFSA limit for 2020 is holding firm at $6,000. The allowance for a first-time contribution, however, rises to $69,500.
What is the TFSA limit by year?
With the exception of a one-time boost to $10,000 maximum contribution, the most you can contribute hasn't changed much year over year:
2009–2012: $5,000
2013–2014: $5,500
2015: $10,000
2016–2018: $5,500
2019: $6,000
What is the TFSA lifetime limit?
There isn't one! The yearly limits are just that – yearly limits. You can contribute up to that maximum year over year over year and enjoy all of the benefits of your interest, dividends and capital gains being protected from taxes.
What are the TFSA withdrawal rules?
The withdrawal rules are simple. There is no tax impact when you withdraw money from the account. It can take 24 to 48 hours to make it into your bank account, but it's otherwise no different than withdrawing money from any other savings account. They were set up to be an easy savings solution with simple rules and great benefits.
Any amount of money you withdraw is added on to what you are allowed to contribute the next year. So, if the limit this year is $6,000 and so is next year's, and you invested $6,000 but then took out $500, next year you will have $6,500 that you are able to contribute.
Is the TFSA a good investment?
With so many different ways to save money for a rainy day, it might not be easy to decide what makes the most sense. Different accounts have different rules and restrictions and chances of making money off your investment.
TFSA vs. other savings accounts
A TFSA is not just a savings account. Savings accounts let your money sit and accumulate interest until you're ready to withdraw it. Money placed in a TFSA is invested in mutual funds, stocks and ETFs. This allows the money you invest to grow at a faster rate (interest rates range from around 0.75% to 2.35%).
There is no fee for withdrawals from a TFSA.
That makes this type of savings vehicle a good choice for investments that you don't necessarily need access to — but can easily access if you do need or want to — especially if you want to watch that investment grow.
TFSA vs. RRSP: What is the difference and where should I put my money?
That really depends on your financial goals for your investments.  But, in general, there are some key differences between the two savings accounts.
Accessibility of funds
A TFSA is a great choice if you want to keep your money accessible. It will allow you to withdraw money at any time, so if you have a rainy day and decide to tap into it, you won't be hit with a tax charge. Funds you contribute are not tax-deductible.
An RRSP, on the other hand, is an investment program specifically meant for retirement.  Any contributions to an RRSP are tax deductible, but any withdrawals are subject to taxation. Contributions are intended for long-term investment and will be penalized when they are withdrawn early.
Long-term contribution opportunities
RRSP will allow contributions only up until the last day of December of the year you turn 71. After that point, the account is closed for all future contributions. A TFSA has no such restrictions. If you choose to work into your later years or come into money after the age of 71, you will not be able to put it into your RRSP.
Type of funds that can be contributed
The amount you are able to contribute to an RRSP is directly linked to the income you reported in the previous tax year.
A TFSA is more flexible. The allowance you invest is based solely on the government-stipulated yearly allowable contribution.
So where is your money best invested? It depends on what you plan to use it. There is no right answer – just the right solution for your needs. A TFSA certainly sounds more flexible, and it is. But with that flexibility can come smaller returns. In order to know which is the right option for you, you need to be very clear on what your personal short and long-term financial goals are.
What are the best investments for the TFSA?
These accounts are unique because instead of your money just sitting in an account accruing dust, when your money is in a TFSA, it is invested in the money markets, which will mean higher returns. It is advisable to avoid higher-risk stocks, and instead invest in lower-risk investments that will keep your account stable, but growing.
ETFs are one of the more reliable investment tools for a TFSA. Specifically, established companies that are spread out across market sectors in order to be diversified and somewhat insulated from market fluctuations.
Does a TFSA count as collateral for a loan?
In short, yes! Any contribution you put into your TFSA is considered an asset. Therefore, if you are looking to secure a loan, make sure you mention the balance of your TFSA account(s) as a part of your overall net assets.
What happens to a TFSA if the account holder dies?
If you or a loved one passes away with an active TFSA, there are two scenarios that will dictate how the money is distributed. When you set up your account, you are able to indicate a beneficiary who would receive the funds in the account upon your death.
Alternatively, spouses or common law partners can be designated as a successor holder. In the case of passing off your TFSA to a partner, the account and its contents will be transferred to the spouse, without it having any negative impact on their own TFSA account.
In the case of a successor holder, any income earned after the death of the account holder does remain tax sheltered under the new holder of the account.
What happens to a TFSA if joint holders of an account divorce?
A TFSA is divided between account holders upon the dissolution of a marriage. In order to complete the transfer, the account holders need to submit a form called a Transfer From a Tax-Free Savings Account (TFSA) to another TFSA on Breakdown of Marriage or Common-Law Partnership. Once the form is completed and submitted to the financial institution, the funds will be divided evenly among the two account holders.
What happens if you go over the maximum allowable contribution?
You can continue to contribute past your allowance, but you'll get hit with a penalty. If you over-contribute to your TFSA, the Canada Revenue Agency (CRA) will charge you one percent, per month on the excess contribution until you remove the funds from the account. So, instead of making money off your contribution, you'll be losing it.
Common TFSA mistakes to avoid
A TFSA is an amazing savings tool, but there are some common mistakes to avoid.
Stay invested
If funds go in and out like a typical savings account, they're not going to be earning interest. It's best to treat TFSAs as a long-term savings tool to grow the amount and invest it where you can get higher returns. Otherwise, you might as well just use your chequing or savings accounts. The only way to reap the benefits is to keep funds in the account.
There is such a thing as 'too much'
If you're not following your contributions closely, you could end up over contributing (which will cost you penalties). Having an advisor help you manage contributions, can help keep this from happening, but you should keep track of your investments too, to make sure they're earning, not costing.
Transferring to a different institution
If you're going to transfer a TFSA, make sure you double check your allowance and ensure you're not over contributing. When you set up a TFSA at one institution your contribution for that year is recorded. Closing one account and opening a new account elsewhere, could count as a second, separate contribution rather than replacing the old account.
To transfer your TFSA mid-year, transfer the funds, rather than reinvest the same funds elsewhere.
How to choose the right TFSA for you
You might have longer-term goals, but just don't want to tie up your money in savings that are inaccessible (as with an RRSP). To help decide which investment option makes the most sense for you, it's best to meet with an advisor. They can help analyze your goals and risk tolerance and in order to pick the right investments for you.