Choose the plan that works for you.
Advisors can now be confident that their brand and professional practice is well showcased online 24/7. Advisorsavvy provides a dynamic platform that allows professional advisors to promote their unique offer and experience to prospective clients with supporting client verbatims and feedback.
ENHANCED
$18.75/mth
$225/yr with an annual subscription
Enhanced Profile & Ratings
Client Experience Program
3rd Language Option
x5 Specialties
Advisorsavvy Verified
PREMIUM
$35/mth
$420/yr with an annual subscription
Premium Profile & Ratings
Participation in 2 Advisor Categories
Client Experience Program
Unlimited Language Option
x8 Specialties
Advisorsavvy Verified
Enhanced Google Search Engine
Basic Profile & Rating
Along with basic contact and location info, this package includes: Category, Fee, Company, About Me/Company and Years in Business.
Client Experience Program
An email template invitation for existing clients to provide feedback and ratings on your profile
An email template for prospects or past clients to provide feedback and ratings on your profile
Annual review of your profile metrics relative to other Enhanced & Premium advisors
Advisor of the Year Program
As an accomplished advisor with ratings you will be automatically included in the Advisor of the Year program that will be awarded annually with ongoing recognition. This award will be reviewed each year for award options in the various categories (Planning, Investments, Insurance, and Financial Coaches), provinces and Gender.
Language Option
Enhanced: If you are able to perform your practice in 2 or more languages, take advantage of this distinction and list up to 3 different languages.
Premium: If you are able to perform your practice in 3 or more languages, take advantage of this distinction and all your languages spoken.
Advisor Verified
We want consumers searching your profile to feel confident that they are getting the best advisor in good standing. Advisorsavvy will endeavor to ensure you are in good company with frequent regulatory checks with the advisor onboarding program.
Enhanced Google Search
Have our team review your profile to ensure you have the key words in your "About me and my company" to increase your searchability on Google.
Specialties
We want our advisors to have the opportunity to highlight 5 (Enhanced Package) or 8 (Premium Package) of their key specialties based on a list of over 15 available for additional search prominence.
Estate Planning
Eldercare Resource Planning
Family Business Planning
Succession Planning
Retirement Income Planning
Investment Planning
Education & Fluency Planning
Tax Planning
Insurance Planning
Employee & Group Benefit Planning
Executive Compensation Benefits
Cross-border Planning
Divorce & Separation Planning
Planning for those with Disabilities
Legacy & Philanthropic Planning
Debt Consolidation & Credit Counselling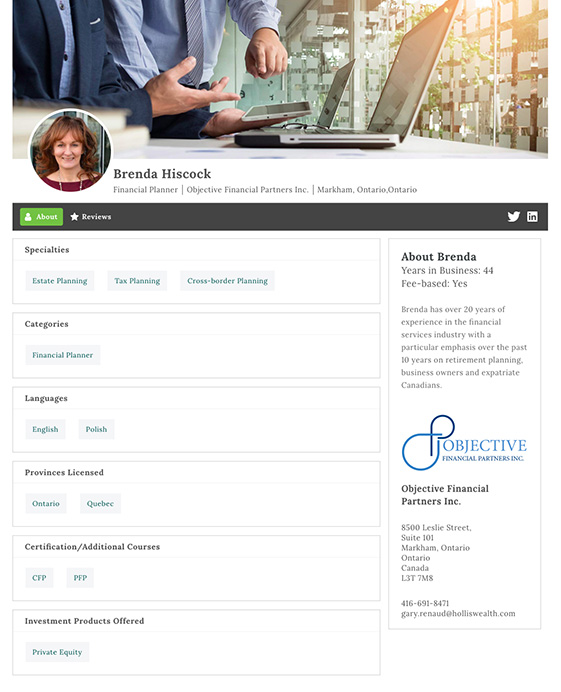 Your Professional Practice Profile
To ensure our professionals achieve optimal online exposure we have partnered with a multiple award winning Google search firm, with 20 years in performance digital marketing.
Save time, add the advisorsavvy team to your practice today and help new and existing investors find the best team for their current and future family financial needs.