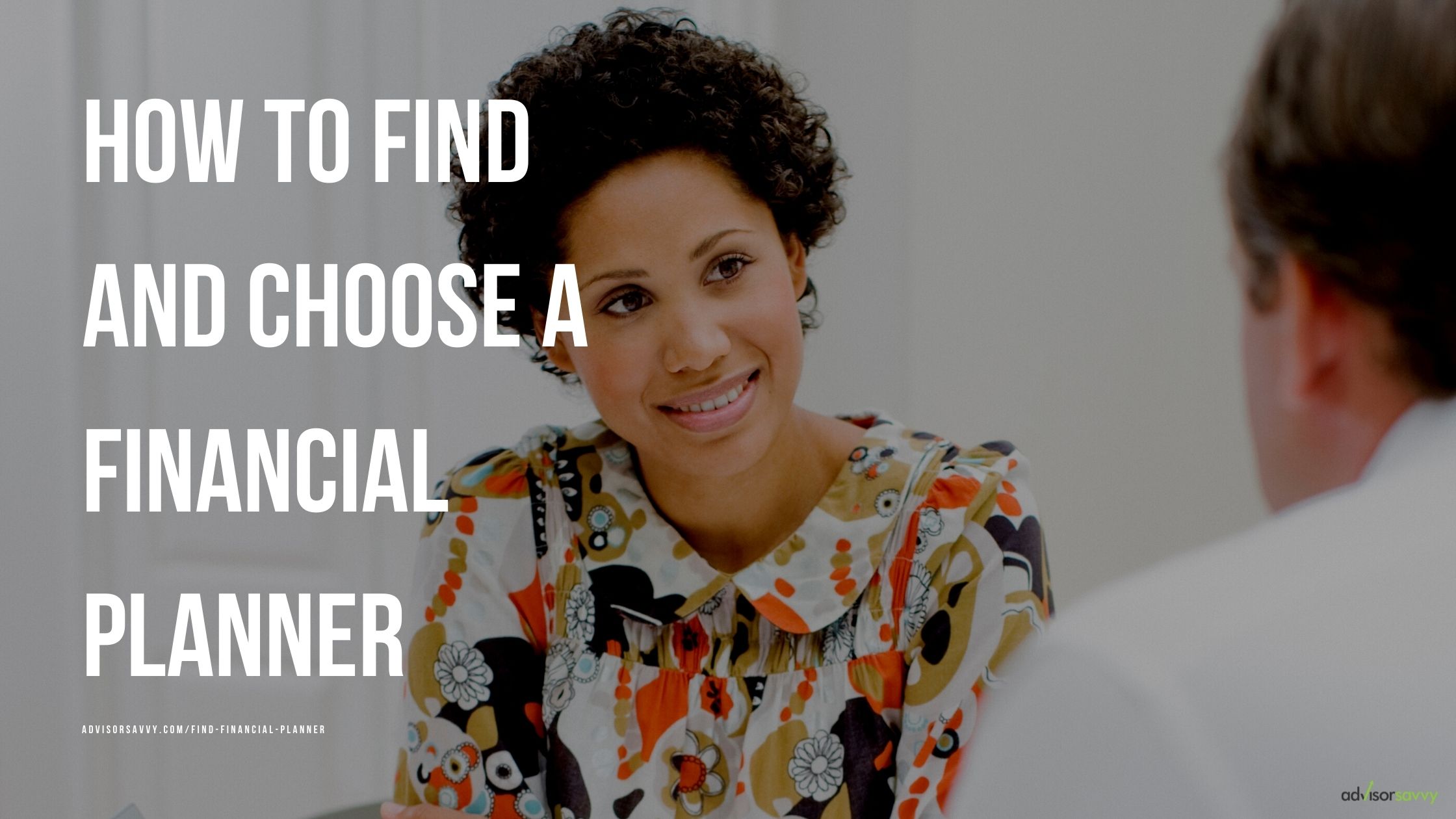 How To Find And Choose A Financial Planner
Do you need a financial planner? That's a question many people find themselves asking as they reach particular milestones in their lives, along with how to find a financial planner that's right for you.
What is a financial planner and what do they do?
The role of a financial planner is to help you clarify your financial and life goals, and give you a roadmap to reach them. Based on your income, they plan and manage investments and insurance needs, and guide you towards a financially stable life and, eventually, retirement.

When do you need a financial planner?
Financial planners are often seen as a need of the wealthy. It's an all-too-common misconception that in order to plan finances, you need to have significant finances to plan. The truth is the right certified financial planner should be able to help you work towards meeting your financial goals, no matter what they are and no matter what your income level is.
Every income level can benefit from good financial planning. If you're not sure whether you'd benefit from a certified financial planner, it's time to start looking into hiring one.
How to find, choose, and hire a good financial planner in Canada
The pool of financial planners can seem like a vast abyss, and then within it, you're expected to find the perfect match for your needs and goals.
If only it were that simple.
To choose and hire a financial planner takes some self-reflection and due diligence. One of the biggest mistakes a person can make when looking for a planner is not taking the time to first figure out what they need.
A little bit of work will go a long way in setting you up for long-term success.
Know and understand your needs
If you are going to a car dealership, you're going to know before you walk in the door if you're looking for a family vehicle or a sports car, if gas mileage is more important than zero-to 60 speed, and if you intend to lease or finance.
You need to have that same understanding of your short- and long-term financial needs before you start trying to find a planner to help you achieve those goals. Plans to start a family or travel the world or retire early will all impact, not only your goals, but the type of advice and plan you require. These are broad, general goals and yours are likely to be far more unique and specific.
By getting clear on what your goals are, you will be much better positioned to find a financial planner you can trust to guide you.
Do your due diligence
The internet is a wonderful thing, but words on a screen, even a litany of online reviews, won't give you the full picture of the financial planners you're considering. The right planner for one person won't make them qualified to help you achieve your goals.
All financial planners are not created equal.
Certification
There are certifications and different courses planners can take to broaden their skillset and education. We'll look more broadly below what some of the letters behind planners' names mean, but make sure any planner you consider is a CFP (Certified Financial Planner), RFP (Registered Financial Planner) or CFA (Chartered Financial Analyst). Don't be oversold by a laundry list of letters after the name of a planner. CFP, RFP and CFA are the credentials to look for. Everything else, while valuable, are related to courses they've taken and specialties they've acquired.
Referrals
With the accessibility of online reviews, many people forgo traditional, word-of-mouth referrals, much to their detriment. Online reviews are not without value but don't rely on them exclusively. Asking a planner to provide the names of current clients will give you visibility into what it's like to actually work with them.
Reach out to peers in business or members of your social network who are happy with their financial planners and can provide firsthand positive reviews.
When asking for recommendations, ask about accessibility (does the planner return calls and emails quickly?) and communication style. Is the planner proactive in making suggestions or reactive, simply doing what is asked of them? What kind of success has the referrer had with them (portfolio growth, strong savings account, upcoming trip to Maui)?
Interview
This step is often missed in the life/time crunch, but it's key to knowing you're making the right choice.
Once you've done the initial legwork, you might feel confident to move ahead. But this final step is important in making sure you're choosing the right planner.
What should you ask your financial planner?
Here are some key things to discuss when you're interviewing your potential financial planner:
Make sure they understand your financial goals and can help guide you towards what your goals are if you aren't sure.
Ask them what their plan is for your money (where and how it will be invested, and why).
 Have them explain any special qualifications they have and specific areas of expertise.
Ask what separates them from other planners.
 Ask what level of service and communication schedule you can expect: Monthly touch bases? Annual? As needed?
What is their track record? Have they received any awards? Any results they're exceptionally proud of?
The size of their client base – How many people are they working with at any given time? How large are their average client portfolios?
What's the payment structure? Is it fee-based or commission? This is one of the rare instances where asking how someone gets paid is not only OK but important for you to know.
At the end of the day, these people are in sales and will make money off the decisions you make, based on their recommendations. Avoid being sucked in by a sales pitch. Listen to how their responses satisfy your questions.
How much does a financial planner cost or charge?
There are different types of payment structures for financial planners. Some charge based on the work they do for you (fee-based) and others get no payment directly from you, but instead, make a commission from the products they sell to you. Most financial planners in Canada are paid by commission. If your preference is fee-based payment, you'll have to dig a little bit deeper into your search.
Some might charge hourly rates ($100–$400 on average) or flat rates for specific services, which could fall in the range of $1,000–$3,000, depending on the scope of the service.
There is no inherent value judgment on a fee-based or commission payment structure, but your comfort zone might dictate how you feel about how your financial planner benefits financially from their relationship with you. So, don't be shy. Ask how they make money from you. After all, you're going to them to ask how to best maximize, save and grow your money, so knowing how much of it goes to them is more than fair.
What is a certified financial planner?
Lots of letters at the end of a name look impressive but don't be fooled by them when you're looking for a financial planner. Some of them are much more important than others and some will be meaningless to certain clients while important to others.
For example, you might see PFPC, CSC, IFIC beside a planner's name. These are not designations, they are courses (specifically, Professional Financial Planning Course, Canadian Securities Course, Investment Funds Institute of Canada). While they do indicate additional, specified education, they are not professional designations and really have no place behind the name of an otherwise qualified planner.
The "gold standard" is a Chartered Financial Analyst (CFA). Consider this almost like a Masters versus a Bachelors level of education. CFAs, because of their level of expertise, tend to work with high-level accounts dealing with millions of dollars. In other words, overkill for the vast majority of us.
Generally speaking, if you find a CFP (Certified Financial Planner) or an RFP (Registered Financial Planner), you can trust that you are in good hands. Bonus points if they have either a CFP/RFP and CFA, but both are not necessary to get quality support.
Here is a handy glossary of financial certifications in Canada.
All of the letters after those (like IFIC, etc.) are gravy, and, quite frankly, if they're padding their name with a bunch of unnecessary letters that read like designations but aren't, you might want to reconsider working with them.
Financial planning is a lifelong process
Like all good relationships, life situations change, people change, external factors change. The reason you initially hired your financial planner might not be the reason you need one down the line. Maybe you've moved, changed careers, had a family, or retired.
Expect and insist on regular touchpoints to go over your needs, your goals and your portfolio. You should feel like one of their most important clients and like your business is valuable, at all points in the relationship, not just when you first start working together.
Reassess the relationship regularly. Are you still getting the high level of service you expected and demanded when you first started the relationship? Are they asking you the right questions to ensure you're still on the same page?
Revisiting your own needs, and your financial planner's ability, availability and commitment to helping you meet them, is an ongoing process. It's a commitment you can and should expect any quality planner to guide you through on your journey to financial security and stability.