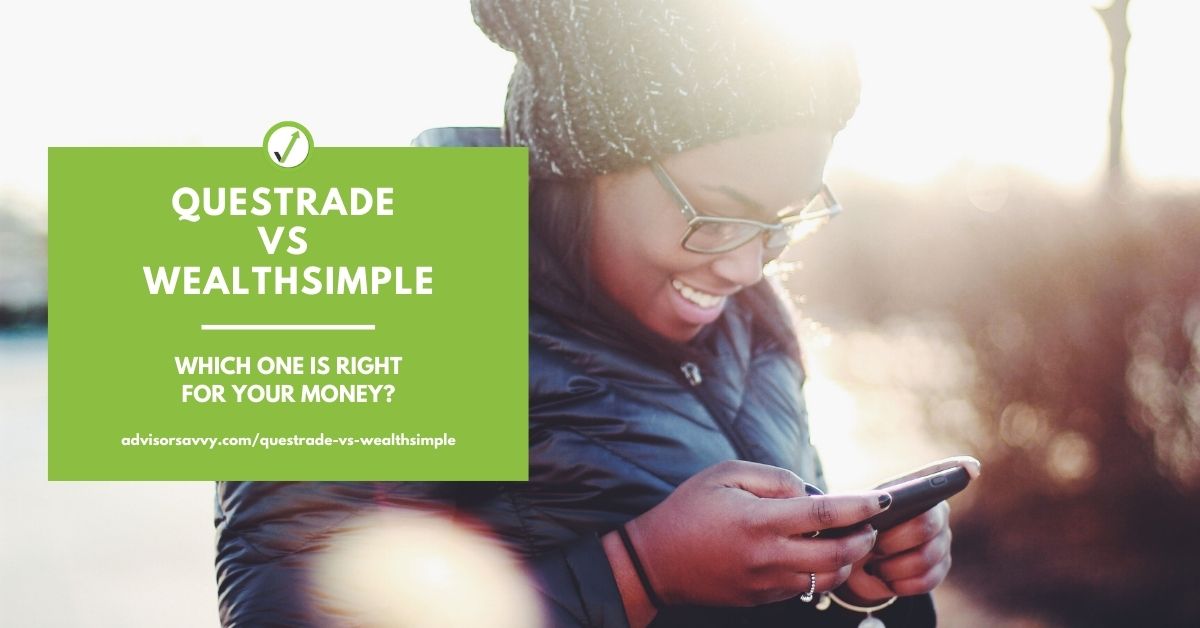 With every day that passes, people can more easily access products and services online. In this futuristic world of technology, online investing is becoming increasingly popular among Canadians. In fact, 500,000 new online trading accounts were opened during the first few months of the COVID-19 pandemic in 2020! Clearly, many Canadians are interested in self-directed investing which can be done from the comfort of your couch. With the shift to remote work and the rise in online shopping over the last two years, this trend makes complete sense.
If you want to get on the bandwagon, you might consider comparing Questrade vs Wealthsimple in Canada. In this guide, we'll compare fees, services, and features for both Questrade and Wealthsimple. Using this information, you can choose which platform is most ideal for you and your finances.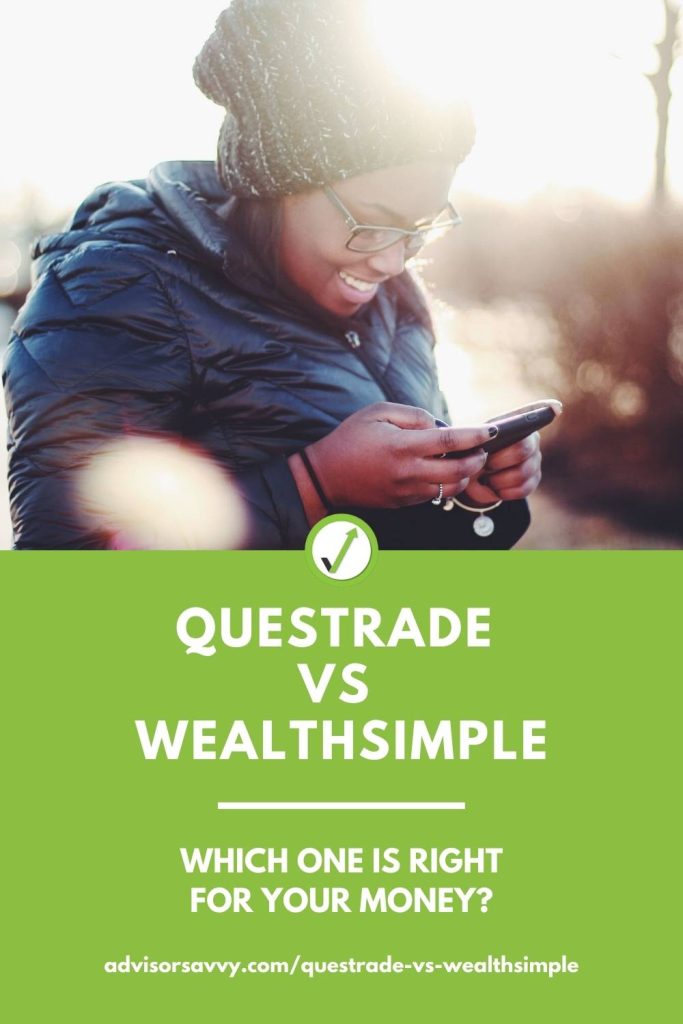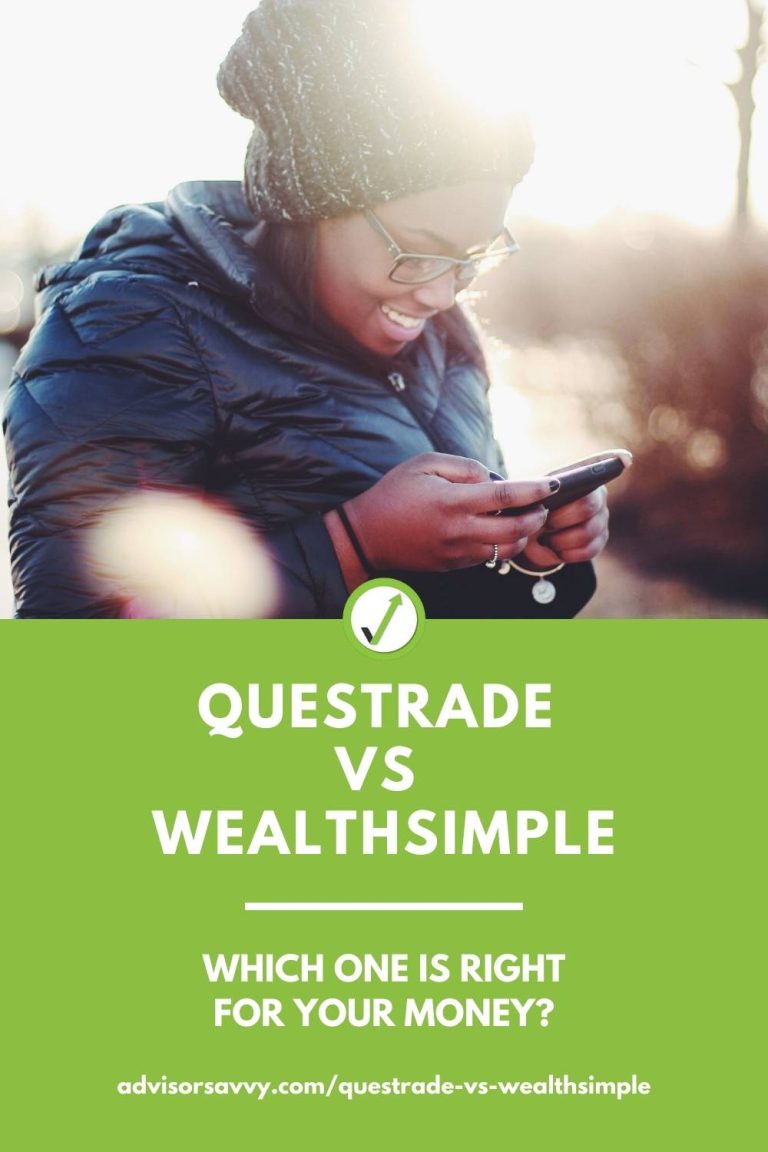 What is a robo-advisor?
A robo-advisor is an online wealth management and investment advisor service. It is powered by specialized software which replicates a human financial expert. In other words, it's a digital platform that invests your money on auto-pilot.
When you open a robo-advisor account, the system will ask various questions to determine your risk tolerance. Then, using that information, the robo-advisor divides your money across various investments. It will make adjustments to your portfolio based on market changes. In a way, robo-advisors allow you to invest and forget!
Another benefit of robo-advisors is the cost. Typically, these digital platforms charge 1% less than a professional advisor would. More specifically, their fees are usually below 0.5%. Comparatively, human financial advisors usually charge over 1%. Robo-advisors are able to do this because they don't have the burden of huge costs for physical branches. In addition, they save money on salaries through automation.
Other features of robo-advisors include socially responsible investing, portfolio rebalancing, tax-loss harvesting, low minimum balances, and diversity in investing accounts. Most of these features are automated which means you don't have to make a ton of decisions yourself.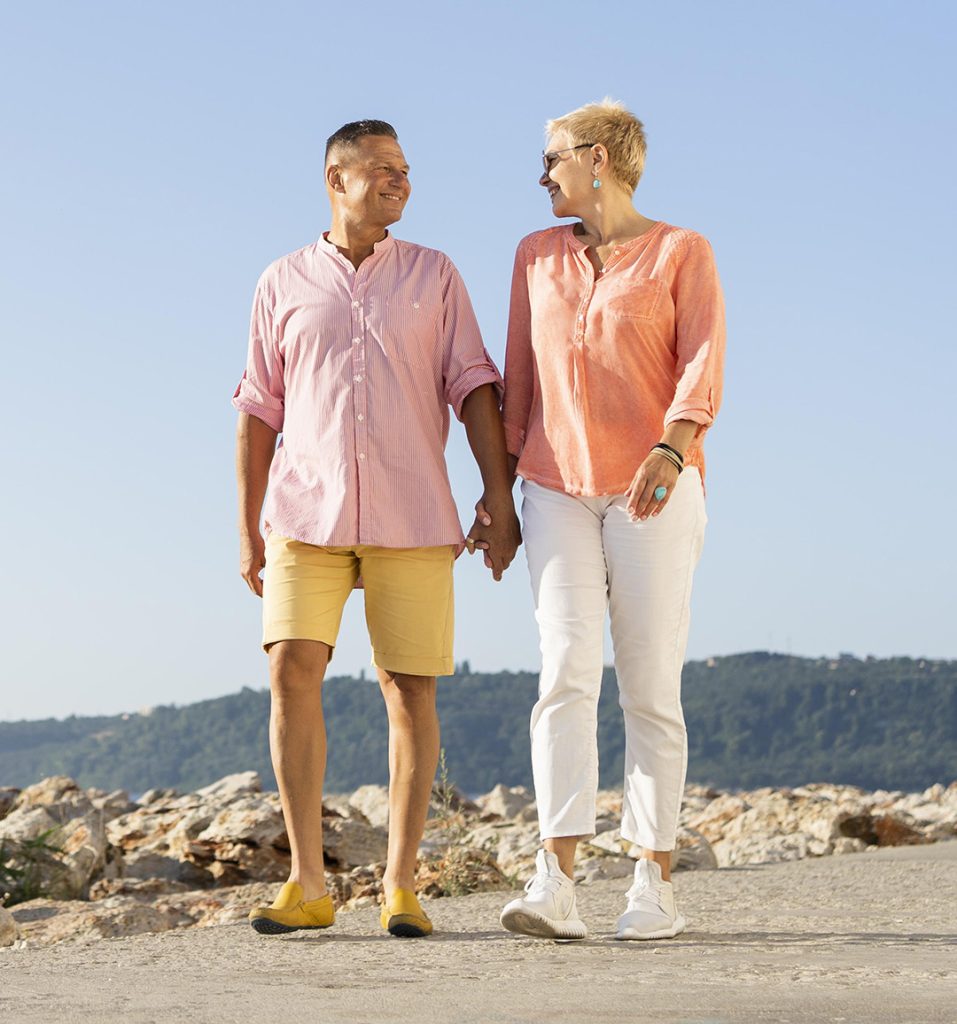 Match to your perfect advisor now.
Getting started is easy, fast and free.
What is an online broker?
An online broker is a broker that offers services to clients through the Internet instead of face to face. The primary feature of an online broker is increased control of the user. With other brokerage firms, someone else usually handles the trades and major decisions on your behalf.
By using an online brokerage, investors can participate in DIY investing. In the modern world, the Internet has allowed individuals to do so much independently. Why not start investing on your own too? Keep in mind: you have the capacity to both earn a lot of money and lose a lot of money through online brokers. As a result, it's (always) important to do your research!
Online brokers have much lower expenses when offering a service through the Internet. Traditional brokers had larger carrying costs because of office spaces, salaries, and so on. For this reason, there is an incentive to use an online broker.
The benefits of online investing
Online investing offers a lot of advantages to the user, even before you get into specifics like Questrade vs Wealthsimple. Below is a summary of all the benefits of online investing.
Lower fees: Online investing services are a lot cheaper to provide by the supplier. As a customer, you benefit from lower fees. With lower fees, you'll be able to put more profits into your pocket.
More control: Financial decisions are mainly in your control with online investing. Therefore, you have a greater opportunity to profit — but also a greater opportunity for loss. Above all, make sure you do your research and learn from mistakes.
Readily available information: Checking your balances, profits, and losses is only a few clicks away. With other investing platforms, you might have to reach out for a statement or transaction list. Information to make trading and investing decisions is available online too.
Related Reading: The Best Financial Planning and Retirement Calculators
What is Wealthsimple?
Wealthsimple is a Canadian online investment management service founded in Toronto. They primarily target the millennial demographic. It was founded in September 2014 by Michael Katchen. Currently, the company holds over $15 billion in assets under management.
Wealthsimple offers several services such as various account types, including Registered Retirement Savings Plans (RRSP), Tax-Free Savings Account (TFSA), non-registered accounts, and more.
Wealthsimple services:
Auto-pilot investing: You can build a nest egg through a robo-advisor powered portfolio with Wealthsimple. The service focuses on Exchange Traded Funds (ETFs) and costs between 0.4% and 0.5% in management fees. The more you invest, the lower your management fees will be. You can also set up auto-deposits, dividend reinvestment, automatic rebalancing, and easily accessible information regarding your portfolio. Other features include socially responsible investing, roundup investing, halal investing, and more.
Wealthsimple Trade: This account allows users to trade Canadian stocks for free. There are no commissions or foreign exchange fees. However, US stocks incur foreign exchange fees of 1.5% which is how Wealthsimple makes their money. Also, you don't need a massive balance to open an account and begin trading either. In fact, you can open an account with as little as $1. Recently, Wealthsimple introduced a Premium account which costs $3 per month. It provides real-time quotes (as opposed to the 15-minute lag on the free platform) and instant deposits of $5,000. Wealthsimple also offers fractional shares with this account.
Wealthsimple Crypto: This account allows you to trade Bitcoin, Ethereum, Doge, Shiba Inu, and many other cryptocurrencies. Currently, Wealthsimple is the only app that allows you to trade stocks and cryptocurrencies simultaneously. Finally, the Crypto account does not have any fees for commissions, deposits, withdrawals, or opening/closing of an account. However, there is a 1.5% to 2% operations fee.
Wealthsimple also offers a cash account and tax filing services. However, these are not robo-advisor or online broker platforms so they will not be discussed in depth. But they're good products to keep in mind if you want all of your financial services in one place!
Pros & Cons
Below is a summary of the pros and cons of Wealthsimple:
| | |
| --- | --- |
| Pros | Cons |
| Potential for high returns with lower fees | Limited investment options |
| Customer support with a human | Stock quote lag on free platforms |
| Perks and options, such as Halal investing, tax-loss harvesting, etc. | No USD accounts |
| No minimum balance requirements | 3-day deposit times |
What is Questrade?
Questrade is another Canadian online brokerage and wealth management firm. Currently, it's Canada's largest discount brokerage firm. Founded in 1999, Questrade has over $25 billion in assets under management. Roughly 200,000 new accounts are opened annually.
Questrade has a few self-directed investing options. They offer various account types too, including Registered Retirement Savings Plans (RRSP), Tax-Free Savings Account (TFSA), non-registered accounts, and more. Questrade has many investment options too, including Canadian and US stocks, ETFs, mutual funds, GICs, IPOs, options, precious metals, and international equities. The minimum balance to open is $1,000.
Questrade services:
All-in-One platform: This system comes with a web platform and a mobile platform. Through both the desktop and mobile, you can perform research, trade, and monitor your investments with a few clicks. The fees to trade vary depending on the type of investment. (See below for chart)
Advanced trading platform: This platform is the same as the All-in-One platform above, except there are some additional features. You can place advanced orders, customize the trading environment, and access premium research tools. Users can also access Questrade Global which offers FOREX and CFD trading, among other tracking features. (See below for chart)
Questwealth Portfolios: Questwealth is Questrade's robo-advisor platform. First, you'll be asked questions to assess your risk. Then, the system will use this information to invest on your behalf. It will also make adjustments to your portfolio based on market changes. The fees for this account are 0.2% to 0.25%.
| | |
| --- | --- |
| Investment Type | Price per Trade |
| Stocks | $4.95 to $9.95 |
| ETFs | $4.95 to $9.95 (but free to purchase) |
| Options | $9.95 plus $1 per contract |
| Mutual funds | $9.95 |
| International equities | 1% of trade value, minimum of $195 |
| Precious metals | $19.95 USD per trade |
| Bonds, GICs & IPOs | $0 (minimum $5,000 purchase) |
Pros & Cons
Below is a summary of the pros and cons of Questrade:
| | |
| --- | --- |
| Pros | Cons |
| Tons of investment options | Complex fee structure |
| Instant deposits | Minimum balance of $1,000 ($5,000 for bonds, GICs and IPOs) |
| Integrated software, including research and customization | Less financial support, designed for knowledgeable traders |
| Many account types | FOREX and CFD trading only available in the advanced platform |
Questrade vs Wealthsimple Trade
Now that you understand Wealthsimple and Questrade independently, let's explore a direct comparison further. Below is the comparison of Questrade vs Wealthsimple Trade, the online broker services, and Questwealth Portfolios vs Wealthsimple, the robo-advisor services.
Questrade vs Wealthsimple: Online broker
Both trading platforms allow you to engage in self-directed investing. They also offer competitive fees and pricing which is much lower than traditional brokerage firm costs.
Unlike Questrade, Wealthsimple does not have a minimum deposit amount. However, Questrade requires a minimum deposit of $1,000. On the other hand, Questrade allows you to invest in many kinds of assets whereas Wealthsimple is limited to stocks and ETFs.
Wealthsimple's fees are also a lot more simplistic. The only fees you have to worry about are foreign exchanges on US stocks. With Questrade, the fees are much more complex and vary based on several factors. Finally, Wealthsimple offers cryptocurrency trading, but Questrade does not. In fact, Wealthsimple is the only online trading platform in Canada where you can trade crypto and stocks at the same time.
Questwealth vs Wealthsimple: Robo-advisor
Both Wealthsimple and Questwealth require you to fill out a questionnaire when you open a robo-advisor account with them. Your responses to these questions will be used to make investment decisions. In addition, adjustments to your portfolio will be made as the market shifts.
Questwealth is slightly cheaper than Wealthsimple when it comes to robo-advisors. Questwealth costs between 0.2% and 0.25%, depending on how much you invest. Whereas Wealthsimple costs between 0.4% and 0.5%, again, depending on how much you invest. In addition, Questwealth invests in more assets and investments. Wealthsimple, however, is limited to ETFs and stocks.
Should you use both Questrade and Wealthsimple?
Yes, you can use both platforms simultaneously! However, many users prefer to have all of their funds in one place, especially if they're registered accounts. More specifically, you wouldn't want to have two Tax-Free Savings Account open between Questrade and Wealthsimple. You are more at risk of breaking contribution and withdrawal rules this way.
If you choose to only use one platform, deciding which one to use can be a challenge. To make a decision, it's best to consider your financial objectives. From there, you can pick the platform that best suits your needs. Here are some considerations when comparing Questrade vs Wealthsimple:
Asset type: If you know what types of assets you want to invest in and trade, that's a good starting point. Questrade offers more asset options than Wealthsimple. If you would prefer to invest in a ton of asset types, however, Questrade is more ideal.
Platform type: Some people prefer to trade on their mobile devices instead of their computer and vice versa. Since Wealthsimple only has a mobile device platform, you may want to choose Questrade since both mobile and desktop versions are provided.
Fee structure: Costs to trade are important to consider because they affect your profits. Wealthsimple's fees are much more straightforward than Questrade's. If you don't like the confusion, Wealthsimple might be a better option.
These are merely a few suggestions on what to consider when choosing between Questrade vs Wealthsimple. In reality, each person's finances and related goals are unique. Take some time to evaluate your position and where you want to go. This will make the decision-making process smoother!
Takeaways:
Canadians are fortunate to have an array of financial products and services to choose from. However, this does mean it takes longer to make financial decisions because of research and reflection. When choosing between Questrade vs Wealthsimple, be sure to think about your personal finances and goals.
Of course, it's totally ok to decide that you would like some human assistance with investing! It's a personal decision, and it might be the right move for you and your finances. Need an advisor? We can help with that.
Good luck on your investing journey!