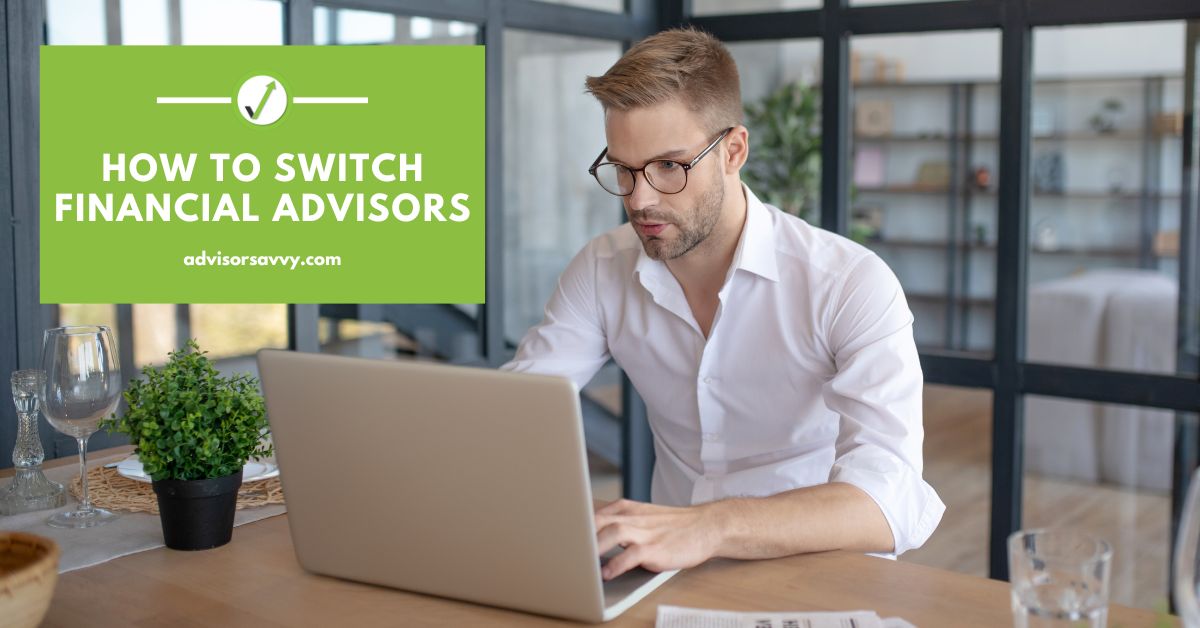 If you are wondering how to switch financial advisors, it is probably time to switch. It is not a decision that should be entered into hastily. However, if you have been questioning your financial advisors' services, it may be time for a change. If they are hard to get a hold of, they give unclear information or have poor follow-through, that can also be a sign it's time to make a switch.
Switching financial advisors doesn't have to be a difficult process. But there are some financial considerations to be aware of. The hardest part will be finding a new financial advisor that you trust. Once you find a new advisor, they should be able to help you with the transition and offer an improved quality of service.
For many people, their financial advisor is the first person they speak to about personal finance issues. They approach their financial advisor about divorce, health issues, and all other life changes that impact their finances. This is often done to ensure finances are taken care of before speaking to others who may be affected. Because of all this, having a financial advisor who genuinely helps and cares about your situation is important.
If you feel it's time to make a change with your financial advisor, we've got you covered! Continue reading to learn how to switch financial advisors.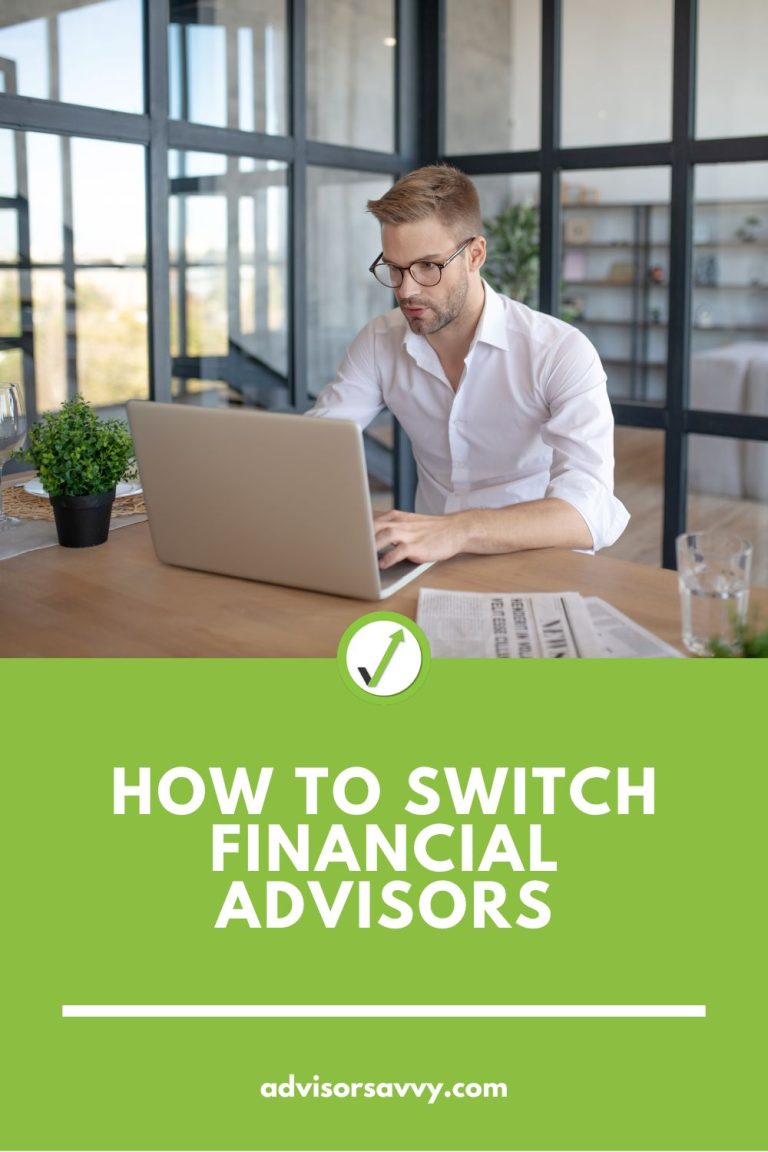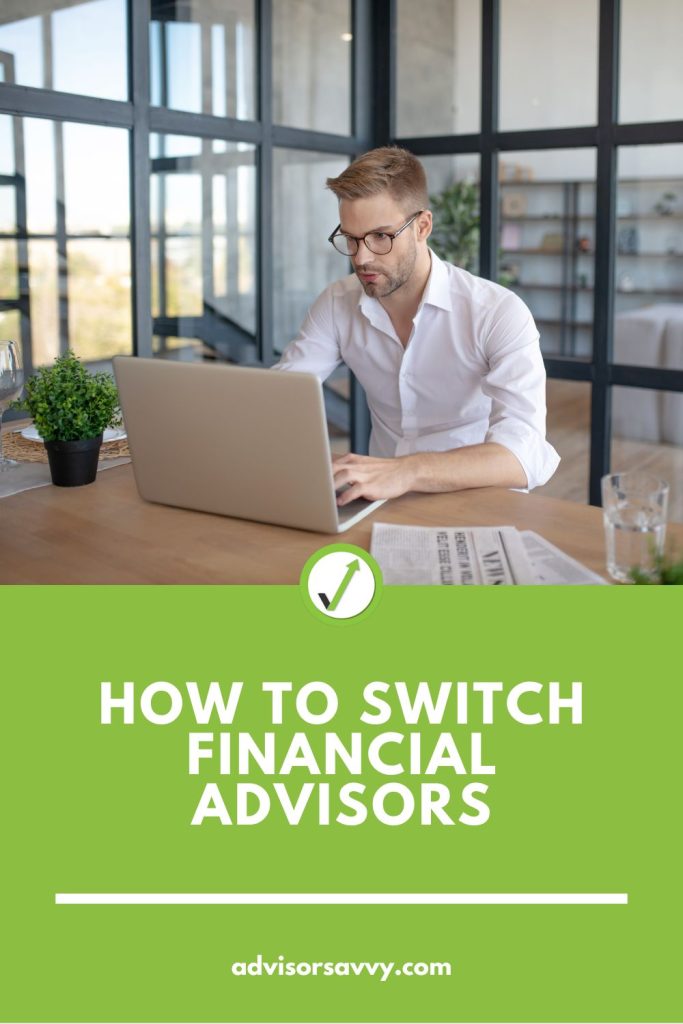 How hard is it to switch financial advisors?
When figuring out how to switch financial advisors, you may ask, how difficult can it be? The process is not all that difficult. Once you notice the red flags of your old financial advisor, you need to review your agreement with them for any termination fees. Then, reach out to potential options and find the best financial advisor for you. Talk to them about any possible transfer fees for investment accounts. Once you're ready to make the transition, cancel your old contract and sign a new agreement. From there, your new advisor should be able to handle the bulk of the transition on your behalf.
The most challenging part will likely be having conversations with the financial advisor you're leaving. It's not easy to let someone go, especially if you've worked with them for a long time. But just remember why you're switching and the uncomfortableness won't last forever!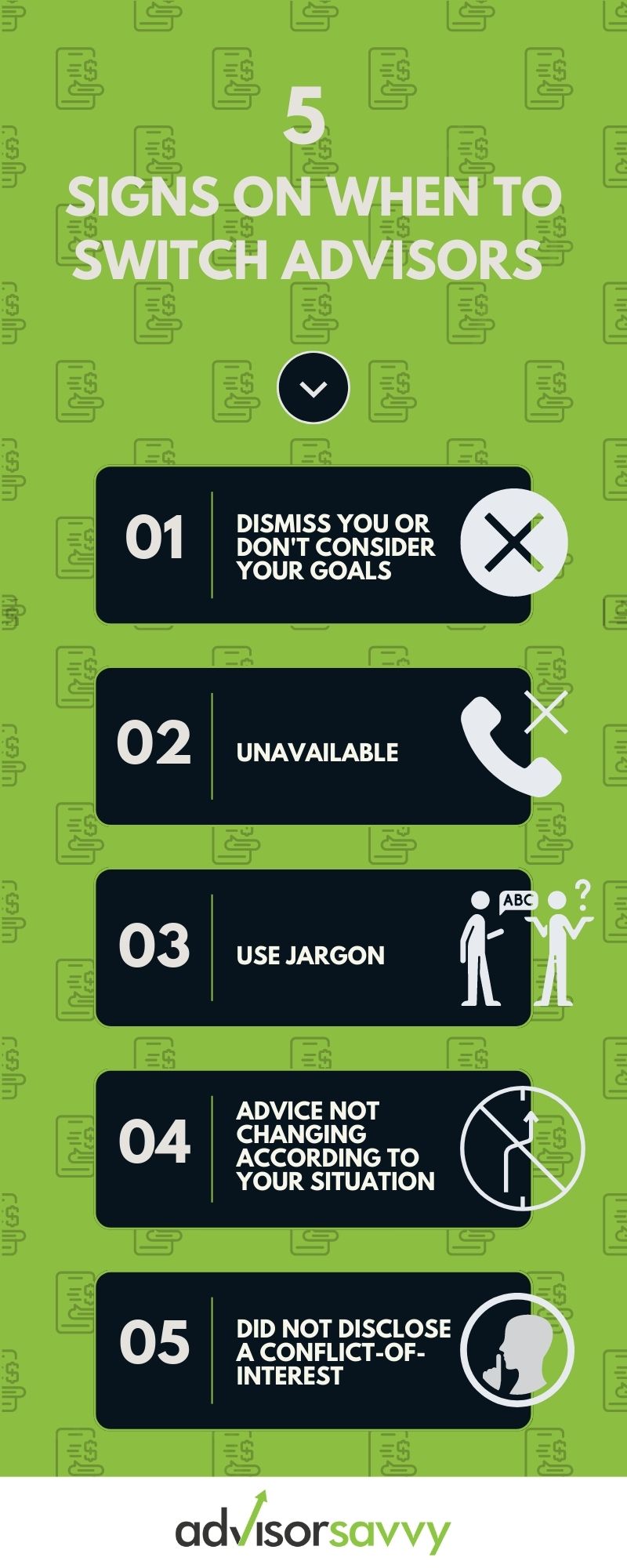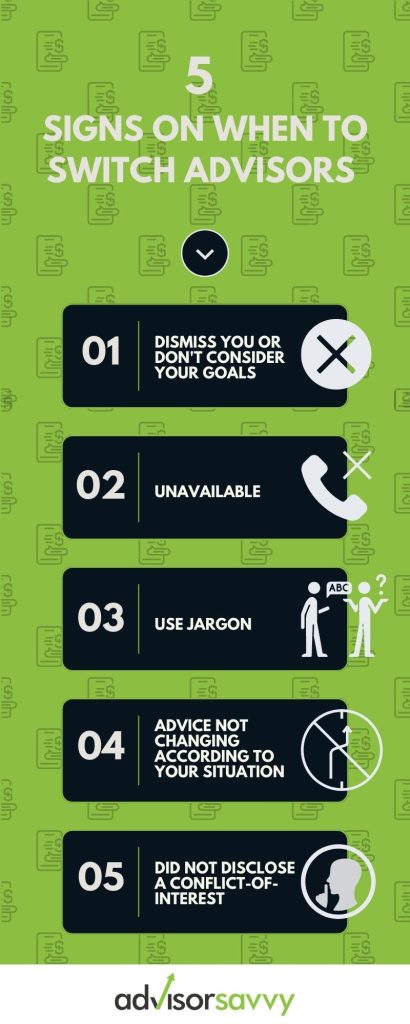 Signs for When It's Time to Switch Financial Advisors
Sometimes it can be tough to know when a switch is needed. If you're questioning it, it's probably time to consider finding a new financial advisor. Below are some signs to consider when determining whether a switch is needed now or not.
They dismiss you or don't consider your goals
If you give feedback, a good financial advisor will act accordingly. They are managing and investing your money on your behalf or creating financial goals and assisting with execution. If they are gambling with your money or providing risker, or safer, advice than you would like, they are not paying attention to you, your circumstances, and your financial goals. Furthermore, if their plans and actions do not take your discussion into account, it is time to find a new advisor.
All your financial advisor's suggestions should be in alignment with your goals. If they are pushing you to use certain products, that's not in alignment with your goals. They are likely serving their own best interest, not yours. The service provided to you should be tailored and customized. While your financial advisor is a professional and expert, they need to keep your goals in mind. They cannot offer you services centered around your goals if they dismiss you.
They are unavailable
Good financial advisors should help all their clients regularly. At the minimum, they should have clear call-back times and honor them. If they take forever to return calls or inquiries, they may be overworking themselves or neglecting their commitment to you. Not every call or email needs to be answered immediately. However, financial advisors should check in regularly with their clients. If they are impossible to get a hold of, you may not be a priority. This could end up costing you money and time — both of which are important! These delays or lack of communication can be detrimental to your financial goals.
Related Reading: When Does OAS Change to Age 67?
Unclear or unexplained financial jargon
No matter how much money you are investing, you should have a clear understanding of how it is invested. If your financial advisor is not being clear or withholding information, they are not doing their job well. They should be explaining the status of your assets and investment openly, even if it takes some time to communicate with care. These explanations need to be in language you understand. They should also share all data and ensure you are clear on what the numbers mean. You are using their service so they can simplify complicated financial practices and ideas. If they are not doing this, it's time to move on.
Related Reading: How To Find And Choose A Financial Coach
Your financial situation is changing but their advice is not
If you got your financial advisor many years ago and they worked well for you, that is amazing! Although, if you are preparing for retirement after years of working and supporting your family, financial goals will change, for instance. If they still have been encouraging you to invest aggressively, they may not be creating strategies to fit your new lifestyle and objectives. As your financial situation changes, how you invest and what you do with your money should as well. A good financial advisor will acknowledge this and pivot accordingly. Alternatively, it may simply be time to find a different advisor that caters to your new needs.
Did not disclose a conflict-of-interest
It is common for financial advisors to profit from recommendations for certain financial products and services. For example, an advisor may partner with a bank and pitch their products, like credit cards or mortgages, to their clients. If the client accepts, they receive a payout for the referral. When a financial advisor engages in this activity, it is best practice to disclose it to the client.
There are other potential conflicts of interest too, but they can vary from situation to situation. Whatever it is, a great financial advisor will exhibit transparency and disclose conflicts of interest as soon as they become aware of them.
Related Reading: What is a fee only financial planner?
How to Switch Financial Advisors
Ready to make the switch? Here's how! Remember, the process can be emotional or uncomfortable at times. But keep in mind why you're switching and know that it'll be better once the transition is complete.
1. Watch for the signs
If you have noticed any of the above signs, it's time to move on from your current financial advisor. Realizing this and actioning it may be the hardest step. However, remaining in the situation longer won't help your finances. It's best to deal with it now so you can get back on track. Ultimately, a financial advisor is working with your finances, assets, and investments. This is no small task and there is no room for red flags. Prioritize yourself and your financial needs — reach the decision to move on.
2. Find a new financial advisor
Before you can leave your old financial advisor, you need a new one. You should be able to transition all your investments and assets smoothly this way. A new financial advisor will be able to help you do this. You will also be able to cut your old relationship as cleanly and quickly as possible. Your new advisor will be able to help transfer investments and manage other technical aspects. This can be complicated and can incur costs, but remember it's just a one time fee to switch. Your new financial advisor will be able to explain how to best transition.
12 Questions You Should Ask Your Financial Advisor
You need to ensure whoever you select as your new financial advisor will be with you for a long time. To do this, watch out for the green flags which are essentially the opposite of the above reasons. Make sure the new financial advisor is interested in you, your goals and will have time for regular check-ins. Read online reviews and deep dive into their credentials and designations. Check out the Government of Canada's recommendations on choosing a financial advisor for more information.
3. Determine the cost
Once you have found a new financial advisor, sit down with them, and explain your situation. They will help review your investments and your previous advisor's termination contract. They can help you understand the cost of transitioning any accounts. In addition, they can clarify the steps for removing your current advisor's name from investments. They should also be able to ensure you minimize costs and have a successful, cost and tax effective transition.
If you have open accounts through your old financial advisor, there may be closing fees. If you are closing mid-quarter, there may even be management fees. You may have certain investments that cannot be transferred to new advisors but rather need to be sold. Your new advisor should be able to help you navigate this, especially if there are capital gains to consider. They will help determine the best time to actually transition.
It is recommended that your new and old advisors work together. Ensure all parties understand fees, what must be sold, and what can be transferred. This information and cooperation is useful to avoid any unnecessary financial burden, like excessive taxes and additional fees.
Most investments can be transferred "in kind" from one advisor to another within one to four weeks. When some accounts need to be closed, there are closing fees. There can be exit fees or commissions from the sale of investments that can not be transferred in kind and must be sold. It all depends on your specific circumstances.
Related Reading: How to Avoid Lifestyle Creep
4. Notify your old financial advisor
This step may seem the most difficult, as it involves letting someone know you no longer want to work with them. With a new financial advisor already selected, they can break the news. And with new paperwork signed, they can request account transfers.
However, it is best professional practice to send an email to your advisor or set up a call. Something short and to the point is best. There is no need to expand point by point on why you have found a new advisor. In some cases, your old advisor may try to contact you. You do not have to respond or engage in a conversation where their goal is to try and get you to reconsider. It is best to thank them and state you found a new advisor you feel you align better with. You can add that you would appreciate their help with the transition.
There is no need to apologize to your old financial advisor. This is strictly a practical and personal decision, related to your money. Finally, most advisors will understand that every client relationship eventually comes to an end. It doesn't have to be bitter, and can actually be quite mutual!
5. Transition
Your new financial advisor would have gone over the transition plan and costs by now. It will involve cooperation with your new and old financial advisors, to ease the changing of hands for accounts and investments.
By this stage, you would have done everything you need to do. Now let the professionals take the wheel and keep your eye on the situation. Ensure you build a strong and fruitful relationship with your new advisor from the get go. You know about the process and know what to watch out for.
---
Not sure where to find your next financial advisor? Advisorsavvy helps pair Canadians with financial advisors across the country. Use our find a financial advisor tool to find potential options today!
Read More: How To Find And Choose An Investment Advisor