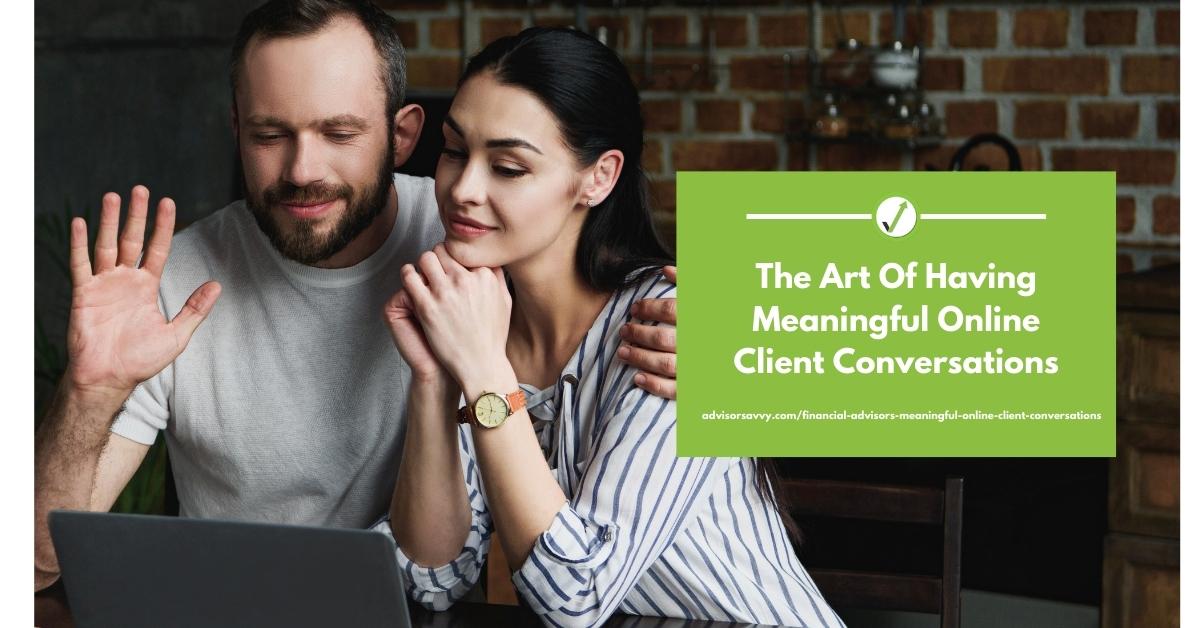 A new normal has emerged from the coronavirus pandemic that has impacted all aspects of our work and personal lives. Financial advisors in Canada have been restricted from engaging with clients in person. As a result, advisors have embraced more remote forms of communications including social media, email, texting, and Zoom video conferencing.
According to Julie Littlechild, founder and CEO of Absolute Engagement, two things are happening at once. First is the overall need for different kinds of conversations, and then the added complexity of having to conduct those conversations online.
Absolute Engagement provides professional training and coaching for financial advisors, helping them elevate the client experience and drive growth. The Absolute Engagement website expresses the current situation well: "When nothing feels the same…It isn't."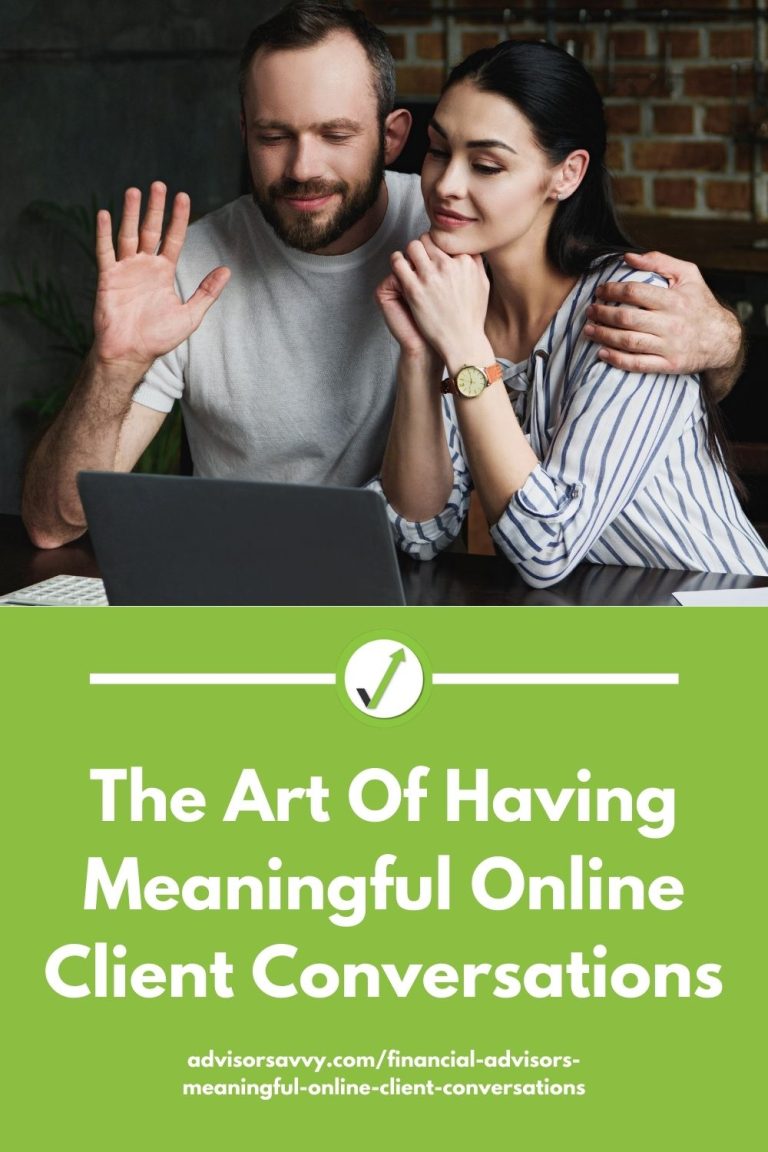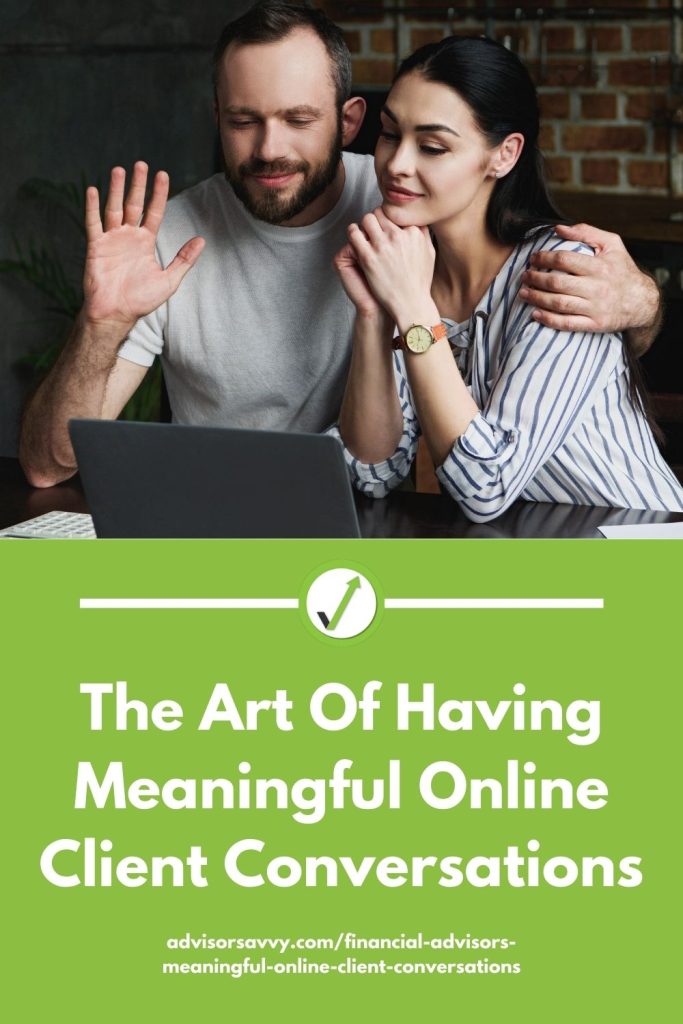 Although advisors may be providing the same type of investment and planning advice, the way they communicate and support clients are changing. Julie notes that financial advisors need to be intentional about what and how they communicate. This will ensure they have meaningful client conversations online. For many, this is a challenge requiring new skills.
"There are definitely advisors – few and far between – who have gone down this path already and so this wasn't a shift," said Julie. "But for the vast majority, they relied on meeting in-person or believed it was critical to their ability to connect."
How to Initiate Online Client Conversations
Julie recommends that advisors tackle the shift to online engagement by first investing effort into listening to clients and understanding their situation. According to research by Absolute Engagement, 84 percent of clients surveyed said that asking for feedback demonstrates the advisors' commitment to their business. Tapping into client needs provides focus so advisors can co-create the conversation.
"Lately there has been an increase in anxiety and vulnerability. The financial advisor can support clients and share how this all connects to their portfolio," Julie said. "People are in such a state of flux right now that advisors need to have conversations about that and really understand how clients are feeling first."
Advisors can use surveys via email to check in with clients, she explains, embedding questions on preferred frequency of engagement or topics of concern. That can shape discussions that are relevant to clients and make online conversations more meaningful.
Leading the Conversation
"There has always been a need for a consistent level of communication with clients," Julie notes.
With more than 25 years of experience working with and studying successful financial advisors and their clients, she is very aware of how client experience is changing and how to leverage trends.
Of course, the most impactful and recent disruptor is the pandemic which is challenging advisors to step up their game. This includes understanding clients' current needs, demonstrating leadership, sharing quality information, and adapting to new ways of engaging remotely.
"Frequency of contact is one thing, but more importantly what do you talk about?"
Julie suggests opening conversations by sharing industry articles and relevant webinars, TED Talks, and other data that demonstrates the advisor is providing value and relative information.
The Art and Science of Client Engagement
Both what advisors are sharing and how well they are communicating have become important during these unique times. Zoom video calls have replaced travelling to in-person meetings, and individual emails or email newsletters can help keep clients involved.
Just as with in-person meetings, advisors need to ensure the meeting environment is conducive to professional and productive communications. According to Julie, financial advisors should take stock of their office set-up. How does their environment look on video calls, and how do they come across as an individual?
Is there clutter in the background? Do you have a whiteboard handy if you like to highlight information in real time? Are you confident and looking directly into the camera during calls? Do you have limited distractions in your workspace?
It's also important to ensure you have the tools to facilitate online conversations. Do you have the necessary software for screen-sharing portfolio reviews etc., making sure they're as interactive as possible?
Julie also underscores the importance of having a meaningful agenda for any client meeting – whether in-person or remote. Based on effort invested in understanding client requirements, the agenda should represent both the client's interests and the advisor's objectives.
The Way Forward for Financial Advisors
Given the way business is conducted has already been transformed, online interaction will continue to be prevalent even when the pandemic is brought under control. How well advisors communicate will be important for facilitating meaningful online client conversations.
"We need to recognize that online client conversations are likely a semi-permanent shift and become more intentional about how we engage online," said Julie.
There are ways to increase your return on effort from client communications. Here are Julie's tips on how to have better digital engagement with clients:
5 Steps Financial Advisors Can Take Now
Ensure you have a robust way to understand what clients are feeling right now by inviting input in advance.
Focus on connecting by looking at the camera during video calls and being intentional about your background.
Use tools to create an interaction (e.g., whiteboard, mindmap software).
Provide clear instructions and consider using a video to show clients how to connect.
Record yourself and ask for feedback from someone you trust.
And don't forget: another important aspect of leadership during challenging times is self-care. Many financial advisors are "Type A" personalities who take on a significant workload. It happens quite easily, so be sure to step back and check in on how you and your colleagues are doing.
"Are you ready to lead and if so, don't forget to take care of yourself."
---
Be sure to read our two other articles featuring Julie Littlechild: Leveraging Client Feedback To Grow Referrals and Steps Toward Building a Niche Practice.
Need help creating a plan for promoting your business? Check out our Digital Marketing Strategy Guide for Financial Planners.