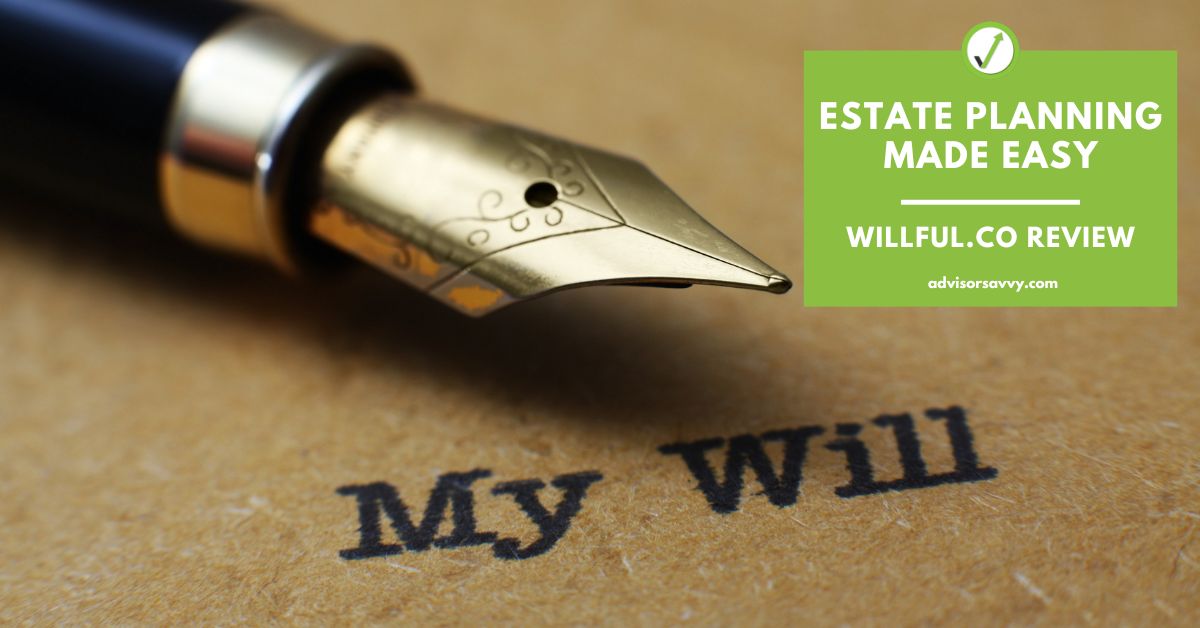 Are you in the market for estate planning services? If you're not yet, you should consider it! According to a recent survey, almost half of Canadians have a will, but only 30% have an estate plan. Creating wealth in your lifetime is one thing, but building generational wealth is another thing which requires a holistic, well thought out estate plan. One estate planning service that's trusted in the Canadian market is Willful.co. To learn more, continue reading for the complete Willful.co review.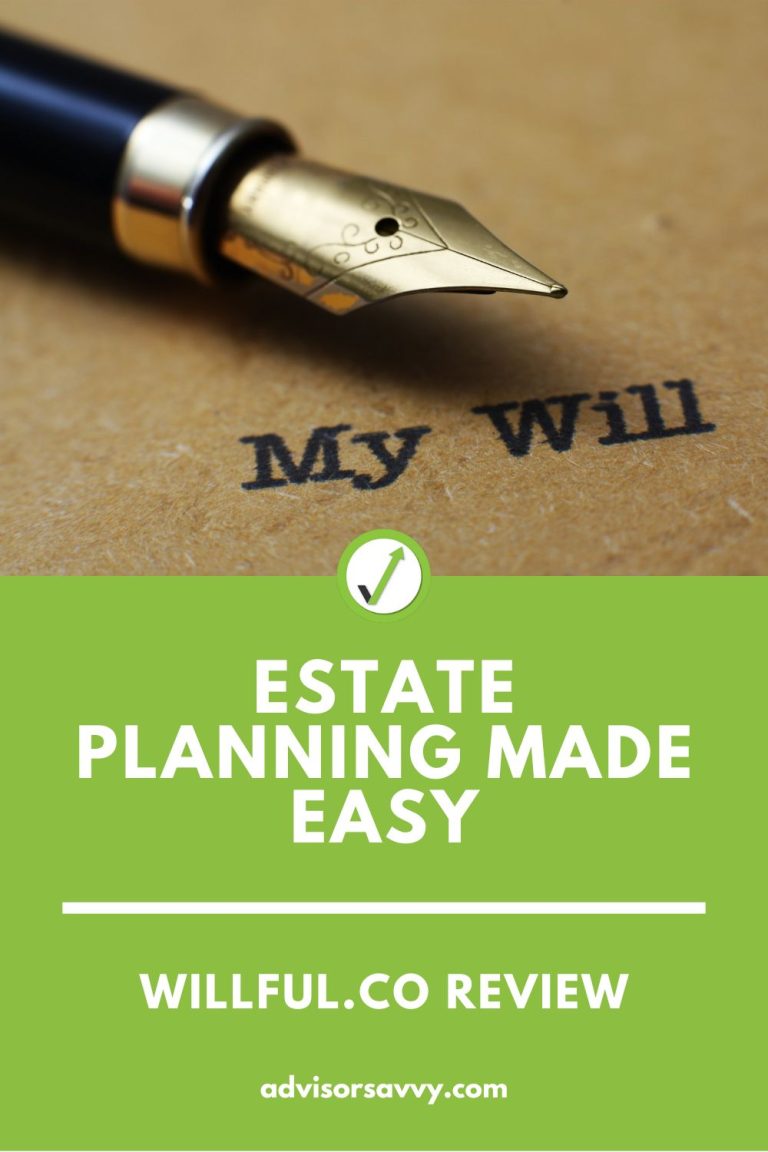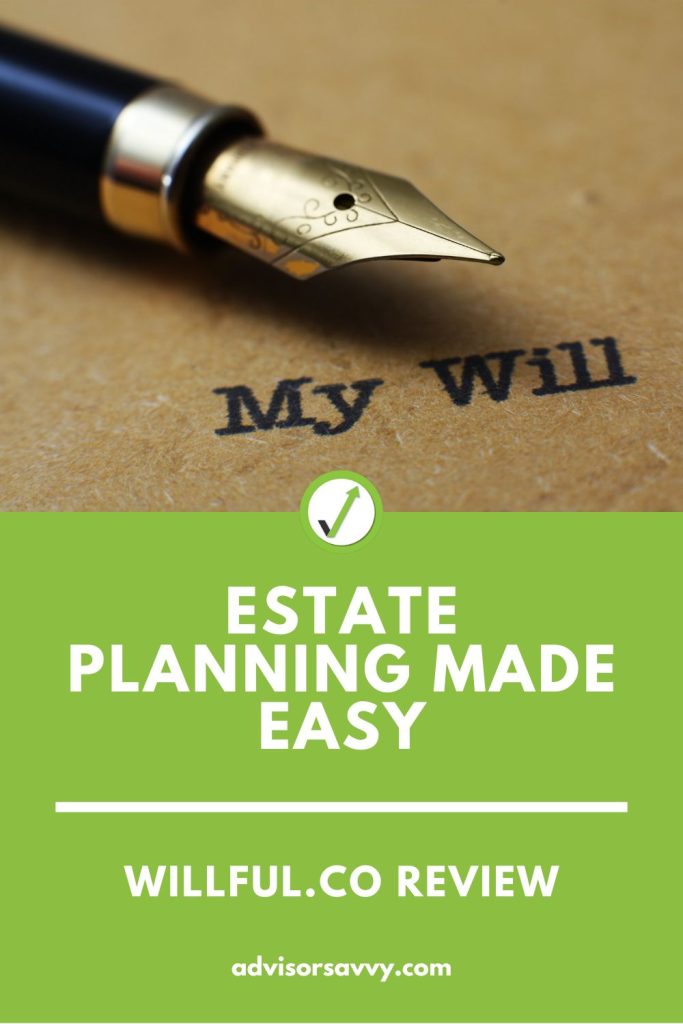 What is Willful.co?
Wills are kind of like taxes — it's tempting to put them off. Why? Because people don't like uncomfortable processes and confusing financial records or paperwork. Then there's the cost and consideration of hiring someone to help you.
Still, the consequences of dying without a will could be catastrophic for taxes, inheritances, and your family's relationships. Fortunately, the percentage of Canadians with up-to-date wills increased from 26.2% in 2016 to 32.58% in 2021; a solid move in the right direction.
But what sparked that shift? It could have been one-too-many telenovela dramas with kids fighting over grandma's estate and heirlooms. But an increase in technological solutions to ease the will-writing process is more likely. One of those solutions is Willful.co, an online platform that helps Canadians write wills in under an hour, without a lawyer, and for a small fee.
Still, is Willful.co right for you? Are the features worth the price, and does it hold up in court? We'll tell you everything you need to know about the platform in our Willful.co review.
Is Willful.co legit?
We know what you're thinking: how can an online will with no lawyer be legal in Canada? At the very least, couldn't it be contested? Perhaps, but not for lack of authenticity. See, wills are accessible to anyone, and you technically don't even need to notarize one (unless you live in Manitoba).
Willful.co walks you through the process and the result is a printable will for you to physically sign. This meets all of the country's requirements for a legal will in Canada, except Manitoba. That's the only province that legally requires you to notarize wills with a lawyer. Currently, Willful.co is available in Ontario, Alberta, Saskatchewan, Nova Scotia, Manitoba, New Brunswick, Quebec, and British Columbia.
Still, the country is responding to the digital transformation sparked by COVID-19, with British Columbia actually allowing fully digital wills. But if you're anywhere else in Canada, you'll still need that physically signed document.
Willful is a well-known estate planning digital platform founded in 2017 and applicable to wills in 8 provinces. Recently, the Law Society of Ontario approved Willful as their first participant in the Access to Innovation Project, an initiative seeking to make legal services more accessible.
Plus, the CEO, Erin Bury, has been interviewed and cited in a few studies and journalistic pieces about the online will space. Most recently, he described a 600% increase in the platform's clients due to the pandemic, both old and young.
Related Reading: Who Knows You Matters More Than Ever: Willful CEO Erin Bury On Client Reviews
Are online wills legal in Canada?
Rogerson Law Group reminds us of the legal requirements for a will in Canada:
Age 18+
Will is physically written and signed at the end (not electronically)
If the will is typed, two witnesses (not a spouse or beneficiary) must sign that they witnessed you signing your will
Online wills are legal everywhere in Canada, but the nuances of how they're prepared might vary from province to territory. For instance, Manitoba requires notarization from a lawyer to make an online will official.
Is Willful legally binding?
Yes, a will created using Willful's services is still legally binding even without a lawyer, as discussed in Canada's will requirements. Still, it's worth considering that the will is legally binding even if you neglect to address any parts of your assets that you might have covered with a lawyer. While Willful's process is comprehensive with lots of questions, you don't actually have access to any legal support despite its legally binding status.
Now, let's get into the juicy details. What does Willful offer, exactly?
Features and Benefits
Our Willful.co review wouldn't be complete without a deep dive into its features. Let's get started:
Online will creation and storage: Willful lets you create an online, legally binding will based on a series of comprehensive questions. The will is then reviewed by an in-house lawyer before being distributed back to you for printing and signing.
Power of attorney documents: All wills need an executor. But what happens if you're still alive and can't properly respond to any updates in your financial scenario? A power of attorney makes decisions aligned with your wishes if you're ever sick, or otherwise unable to deal with your finances. For example, they might help you readjust your will if one of your beneficiaries dies. Remember, Willful only allows power of attorney documents for its premium members.
Multiple asset management: You can include physical assets like real estate or jewelery, digital assets like cryptocurrency, and financial assets like mutual funds in your Willful.co will.
Customer support and resources: Willful has three modes of communication for any support you need in the process. You can either email them at support@willful.co, talk to the live chat service, or request a call from one of the Willful experts. Keep in mind that these resources are purely customer support — they aren't legal professionals certified to offer legal advice. On top of that, Willful has an extensive library of blog articles that answer and describe common items in the estate planning process.
We discovered in our review that Willful.co has a few unavailable features that might make you think twice before using it:
Trusts: Willful doesn't have any plans to include trust creation in its service because of its "complexities."
Disinheritance: Willful doesn't permit you to disinherit a spouse or dependant, though they mention plans to allow it soon.
Dual wills: This is a downside for anyone with properties and other assets overseas or even just across the border. You might need two wills to accommodate international assets, which Willful doesn't support.
Related Reading: Estate Taxes in Canada
User Experience
One of Willful's best attributes is its satisfying and accessible user experience. We'll review a few aspects of Willful.co that speaks to this:
Ease of Use: Most of Willful's TrustPilot reviews cite immense satisfaction with the platform's user friendliness.
Navigation and Design: Willful's interface is super intuitive and logical for customers to follow. The clean interface features a questionnaire that continues to customize your will to best align with your wishes based on your answers.
Quality of Content and resources: Willful puts careful time and effort into its learning center and blog. They create relevant, engaging content that's easy for anyone to understand. Plus, Google ranks them quite high in the search engine results pages, meaning they fit many of the search engine giant's requirements for quality content.
Customer support and responsiveness: Willful users can always access live chat between 9 am to 5 pm, Monday to Friday.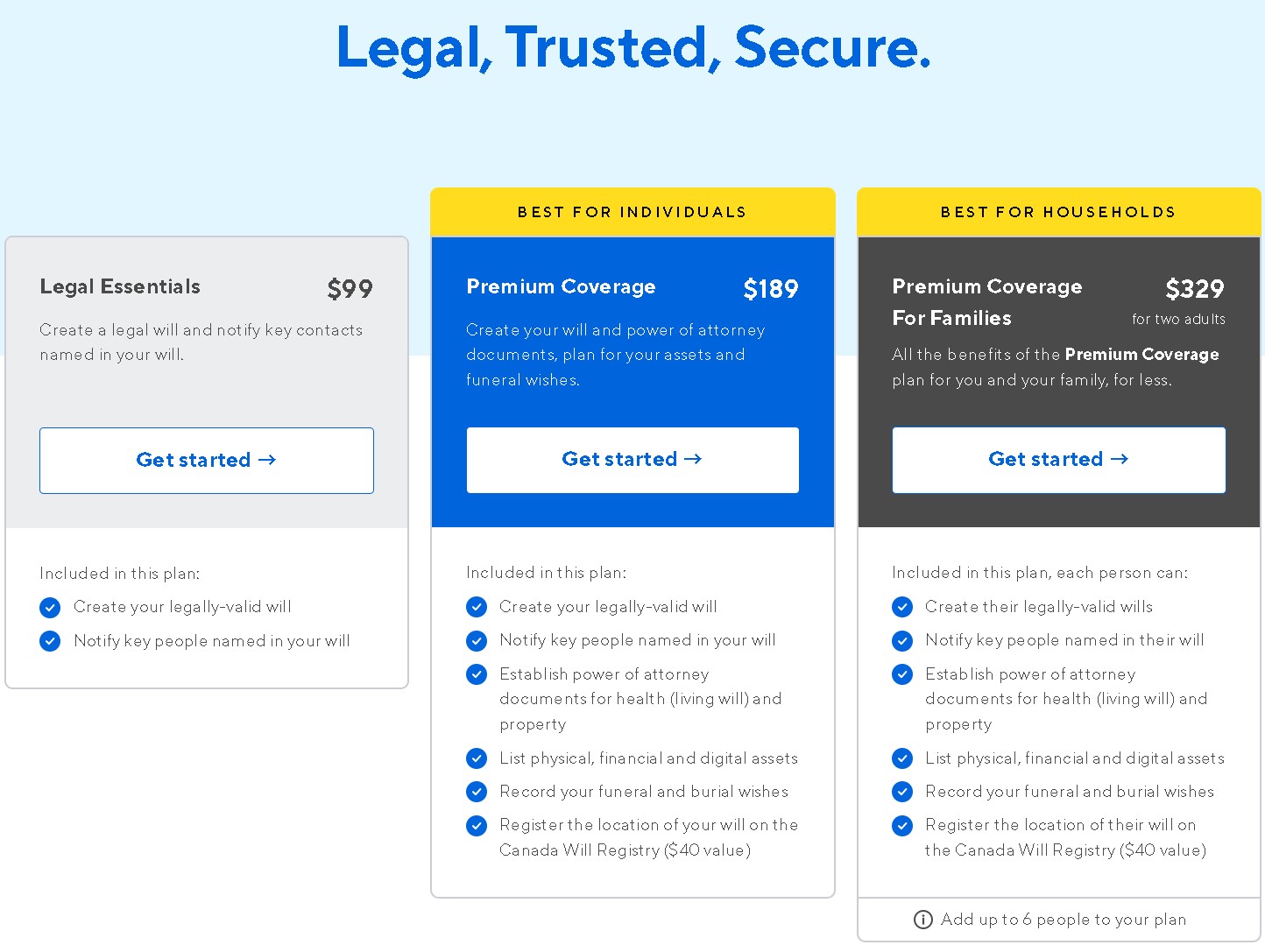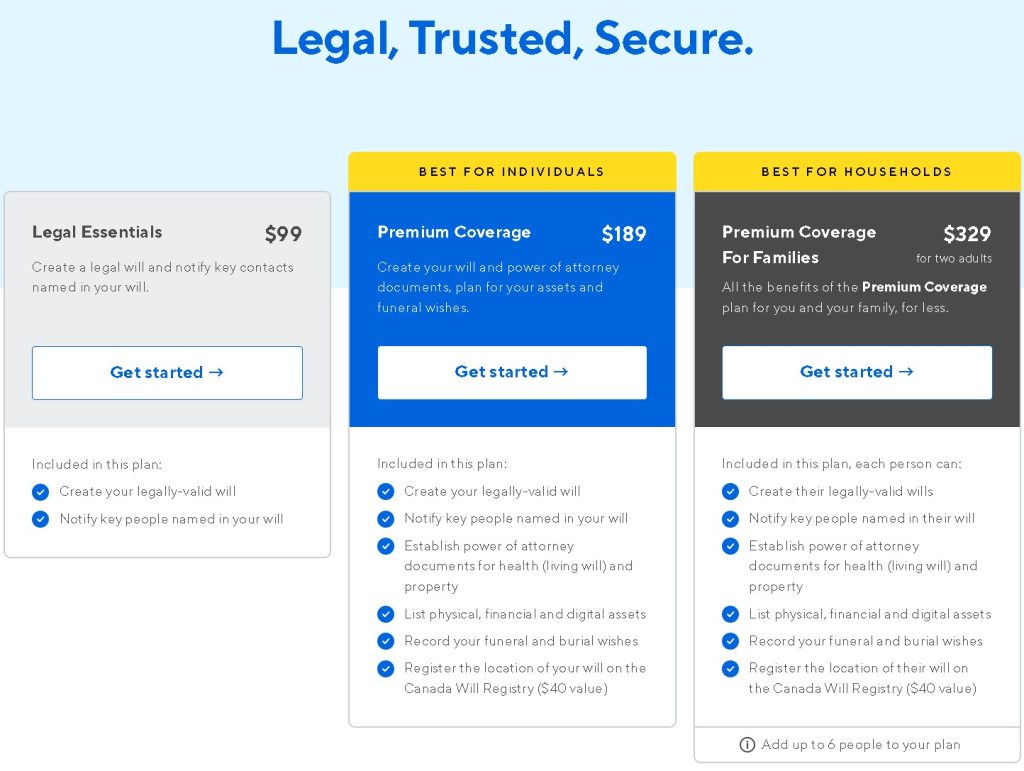 Pricing and Value
Willful has a three-tiered pricing system and only requires one-time fees — no pesky subscriptions here.
Essentials: $99
Legally valid will creation
Beneficiary notification
Premium: $189
Legally valid will creation
Beneficiary notification
Power of attorney documents
Physical, financial, and digital asset list
Funeral and burial wishes
Canada Will Registry location registration
Families: $329 for 2 people
Everything in the premium plan for up to 6 people
The most basic plan offers you a legally binding will and beneficiary notifications for $99. Next up, you can add in power of attorney documents, funeral wishes, and a Canada Will Registry location for $189. Finally, the premium $329 package covers wills for two people, with the possibility of adding up to six people to the plan.
Overall, this is a lot cheaper than hiring a lawyer. But Willful's prices are a tad high if we compare them to the competition. For example, Legalwills.ca has 23 years of experience under its belt as an online estate planning platform and offers a comparable low-tier plan at only $39 (versus Willful's $99). Additionally, they include multiple scenario planning for unexpected events, like a beneficiary passing away before you.
Still, Willful's platform is a little more fresh and user-friendly, which might attract younger will-writers or anyone else easily intimidated by tech. But it's worth noting that Legalwills.ca likewise has strong, positive reviews applauding its user experience.
Related Reading: Are financial advisor fees tax deductible in Canada?
Should you consider Willful.co for estate planning?
Willful has made great strides in offering a user-friendly, accessible, and affordable estate planning platform for Canadians. The interface is superbly clean, fresh, and easy to use. Still, the price leaves more to be desired when you compare it with Legalwills.ca — a similar platform with a longer history in the bizz and more competitive prices. Take time to read through this Willful.co review before making a decision, paying special attention to the features it doesn't include.
Of course, online estate planning platforms make the will creation process a lot easier and cheaper; however, you can't replace a lawyer with Willful.co or any competitors. If you have a particularly difficult asset mix or require more customized service, a lawyer is the way to go.
Whether you're 18 or 65, a will is a savvy move to maintain financial wellness. But if you need help figuring out your investment strategy, financial goals, or any other related topics, a financial advisor is a great place to start. Find your perfect financial advisor today!
Read More: Is Bitcoin Legal in Canada?