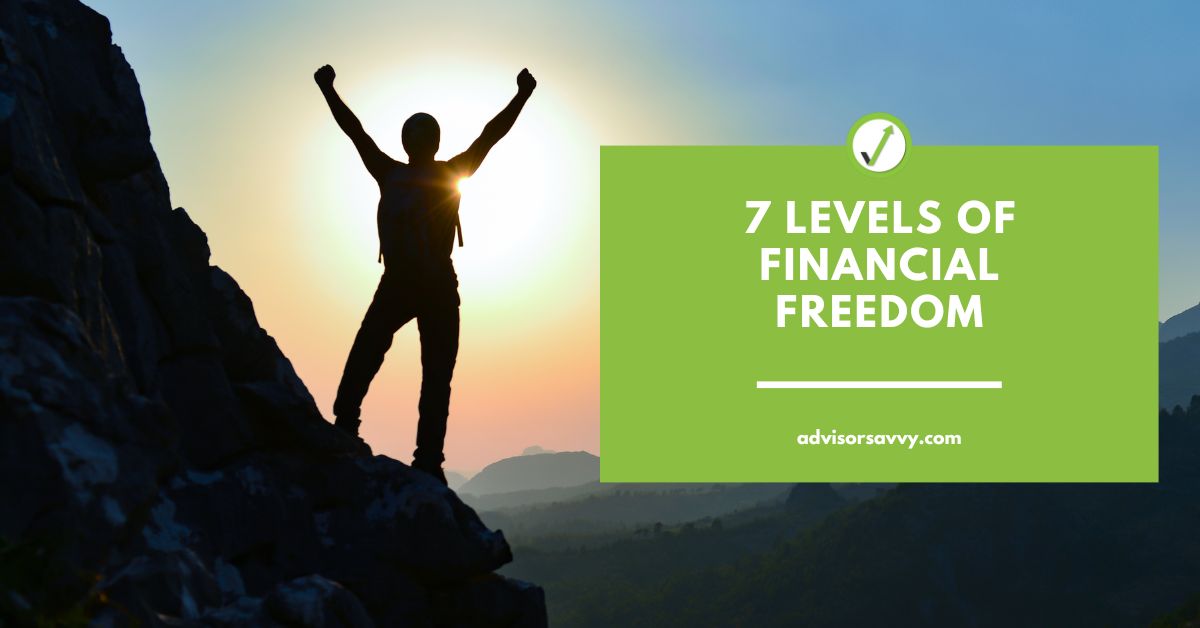 Rising costs, inflation, and endless desires to attain comfort drive us on a quest for the secret formula to financial freedom. That's where Grant Sabatier's 7 levels of financial freedom came in — a roadmap to assess your finances and improve them so much that you can experience financial freedom. Empowering, right? Yet the road there is intimidating.
The goal is to feel confident, independent, and secure in your ability to cover your bills, achieve financial goals, and, most importantly: enjoy your life. But how can you overcome high living costs, exorbitant debt interest, and everything else eating at your wallet day and night? We're here to tell you that whether you're looking to pay off debt, save for a vacation, or build wealth, financial freedom is within your reach.
A great starting point is hiring a financial advisor to help you lay out your finances, budget, goals, and strategy. But for now? We'll walk you through a few principles for financial freedom and dive deep into Sabatier's 7 levels of financial freedom!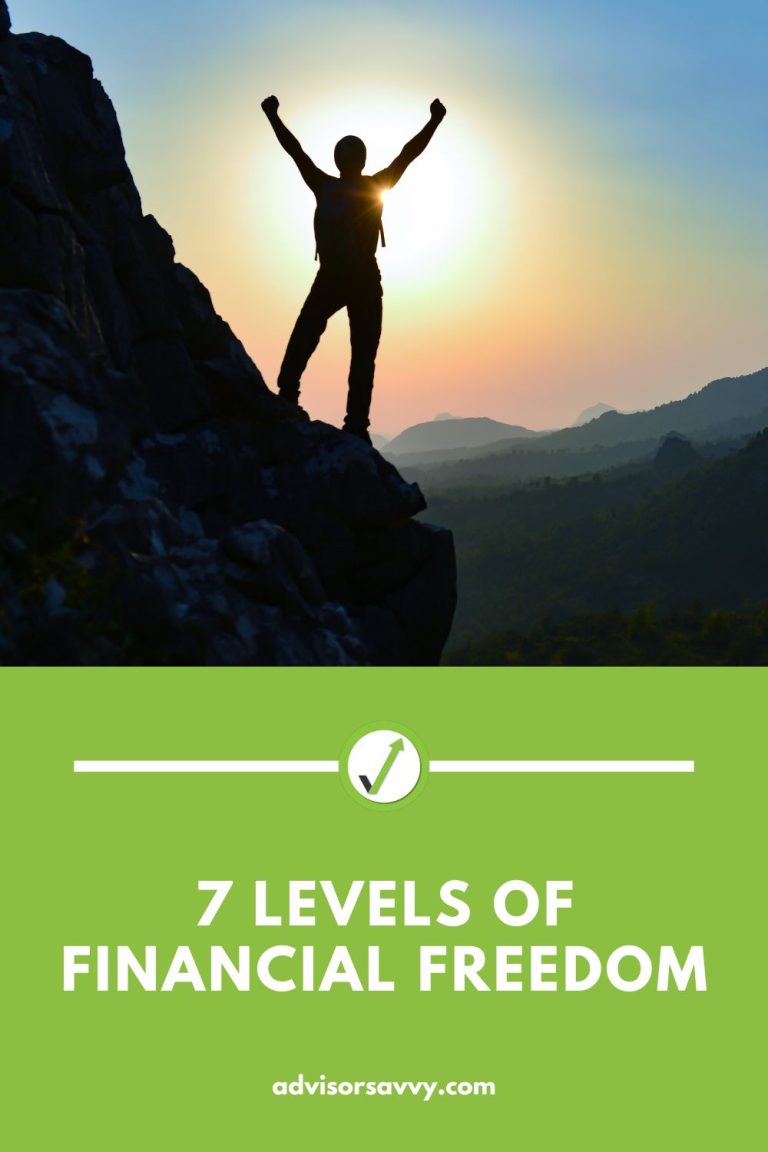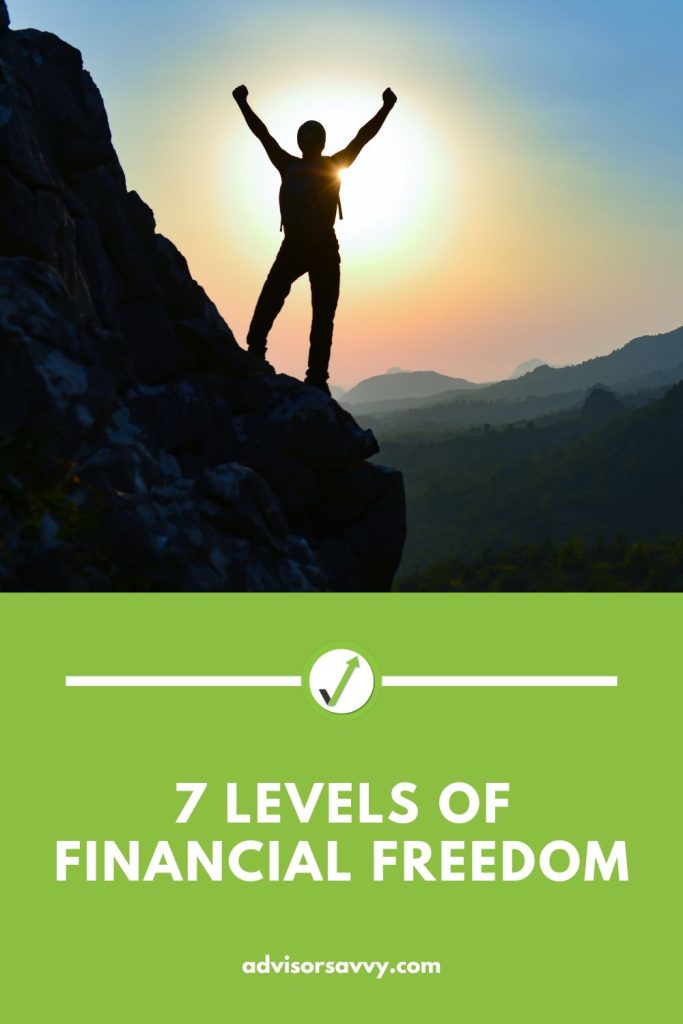 What is the golden rule for financial freedom?
Most financial experts — savvy investors, bankers, and financial advisors — can agree on one golden rule for financial freedom: Pay yourself first. Aka, save before you spend.
When that pay cheque rolls in, it's tempting to spend it on your long list of obligations like rent, utilities, and groceries. Once that's covered, you can blow it on that hot date night or the latest fashion find. But paying yourself first prioritizes saving as though it was as mandatory a payment as your rent.
Say you pay yourself $200 a month — whether into an emergency fund, education fund, savings account, or investment. That $200 turns into $2,400 after just one year, plus any interest. Sure, you might have to sacrifice a night out or two, but the slow burn of rewards becomes worth it. Sabatier recognized that no-pain-no-gain concept when he created the 7 levels of financial freedom.
Related Reading: How to Find and Choose a Financial Planner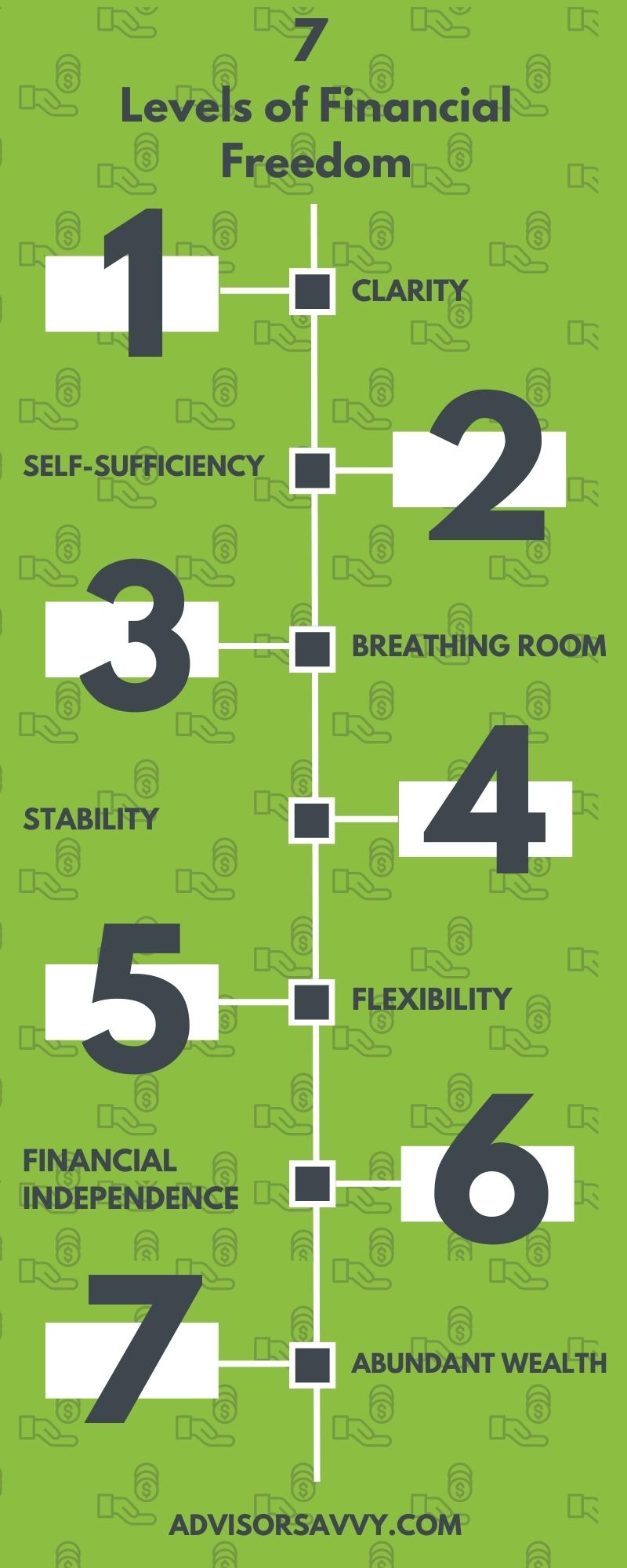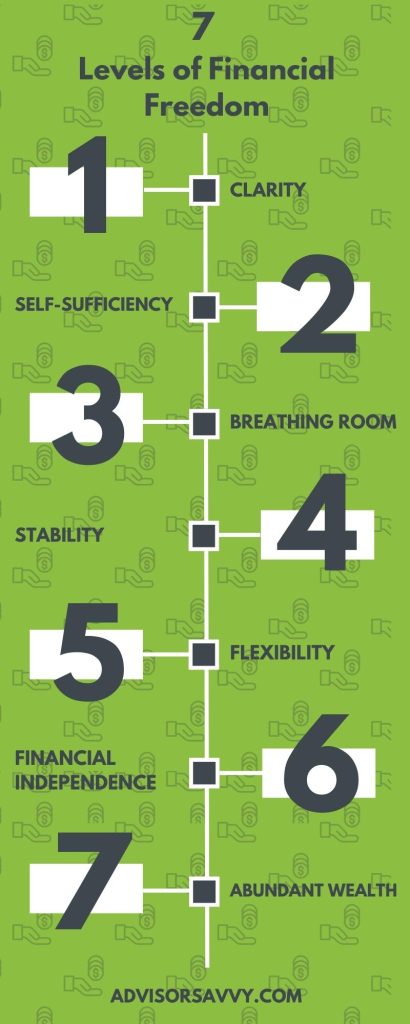 Sabatier's 7 Levels of Financial Freedom
Let's take a look at each of Sabatier's 7 levels of financial freedom below.
Level 1: Clarity
You wouldn't go into an exam or new job blind, would you? Financial investments, budgeting, and strategizing requires similar prep. Step one in Sabatier's 7 levels of financial freedom is clarity, aka understanding your current financial situation and enhancing financial literacy.
All you really need to determine are three things:
How much money you have (assets, value in materials, securities, investments, and savings)
How much debt you have (student loans, credit cards, mortgages, credit lines, etc.)
Your financial goals (how you want to live your life)
Once you lay all that out, you can start tracking your expenses and creating a budget.
Level 2: Self-Sufficiency
The next level towards achieving financial freedom is about fending for yourself and becoming financially self-sufficient. At this stage, you start to earn enough income to cover your expenses without relying on outside help from loved ones.
You have a steady flow of income and maybe a small emergency fund.
Still, you might be living paycheque to paycheque and operate on a strict budget. More than half of Canadians live paycheque to paycheque, putting them in level 2.
This is the bare minimum to survive — but that makes your relationship to money master and slave, and you're the slave. Keep moving up the 7 levels of financial freedom to thrive, not survive.
Level 3: Breathing Room
If you've ever lived pay cheque to pay cheque, you know how suffocating it can feel. Level 3 in the 7 levels of financial freedom offers some relief.
Here, you have some breathing room. What does this mean? After spending money on essential expenses, you have a little extra to invest in stocks or create a more substantial emergency fund. Plus, you have more wiggle room to handle unexpected expenses like a big vet bill or sudden home renovation costs. Still, you might have some debts eating up a solid chunk of your income.
At level 3, you might still crave more out of life. But gone are the days of living pay cheque to pay cheque or relying on help from parents!
Level 4: Stability
What does financial stability mean? At this level, you've:
Paid off high-interest debts
Established a robust emergency fund that can cover up to six months of living expenses
Level 4 Canadians can handle a sudden job loss or lay off and make it out okay without borrowing money, even if it takes six months to get back on their feet. For many, stability is a financial goal. But today's era of remote workers and work-life balance aficionados want even more; onto the next level!
Level 5: Flexibility
What if you had enough money to travel the world for a year or two? Or embark on a new business idea? You'd have to be in level 6 of the 7 levels of financial freedom: flexibility. At this level, you're comfortably able to pay your bills, enjoy your life, and even remove yourself from the rat race in pursuit of your passions.
Does it get better than this? Put some of that flexible cash into an investment to eventually reach:
Level 6: Financial Independence
Flexibility is fine and dandy, but it's not like you can kiss your day job goodbye forever. You'd have to reach financial independence to pull that off. Level 6 means you can sustain yourself with the interest, income, and appreciation that you generate from your investments.
People on this level either rely on a sizable investment portfolio generating interest, rental income from real estate investments, or a combination of both.
To get here, you'll need to hustle hard through all the financial freedom levels. This might mean following a strict budget and putting more income toward investments. Once you experience financial independence, you have a lot more time on your hands to build:
Level 7: Abundant Wealth
"Every $1 invested today is worth hours, if not days, of your freedom in the future." Wise words, Sabatier. If you invested $1 every day, you wouldn't just have $365 at the end of the year. Sabatier recognized in his quest from being broke to early retirement (all within five years) that investing your money is the only way to regain control of your finances. At level 6, you might have sustained your lifestyle with investments — but you had your eye on your dips and peaks each day to keep things running smoothly.
Now that you've reached level 7, you have more money than you may ever need, and financial concerns are no longer a part of your daily existence. At this stage, you have the freedom to pursue your passions and enjoy the fruits of your labour without stress. But how do you cover your daily expenses? All you really need is the retirement rule of 4 — 4% of your investment portfolio each month is enough to live how you want to live.
Related Reading: Personal Financial Planning for Every Generation
Curious about more financial principles to explore? Keep reading!
What are the seven levels of wealth?
You might look at financial freedom as synonymous with wealth. The two are certainly similar, but wealth isn't always as flexible. Here are the seven levels of wealth:
Dependence
Survival
Stability
Security
Independence
Freedom
Abundance
The concept is similar to Sabatier's 7 levels of financial freedom, but it helps to lay it out in different views for varied audiences. Before we go, we'll leave you with a solid way to assess your personal finances.
What are the 5 levels of personal finance?
The certified financial advisors that we work with all agree that clarity on your finances is vital to reaching your financial goals. Here's a clear way to look at your finances:
Income: How much do you make, and how can you plan to increase that number? You might consider your 9 to 5, shift work, or side hustles in this category.
Spending: How much are you spending on vital expenses versus nice-to-haves?
Savings: How much do you pay yourself first with? This usually includes liquid savings and emergency funds, as well as post secondary education and retirement planning.
Investing: Do you have a real estate investment, stock portfolio, or stake in a business? These are all considered investments that take you closer to financial freedom.
Protection: This includes various types of insurance, like life, critical illness, mortgage, and accident insurance.
Related Reading: Best Chequing Accounts in Canada
Level Up Your Finances with a Financial Advisor
Level 7 won't come after a month of budgeting or the odd raise. It's often a lifelong journey that demands your attention, time, and effort. But the rewards are abundant, and money becomes your tool to unveil the future you want. If the road gets tough, remember, it's about the journey, not the destination!
So, what's your first step to reaching level 7? Consider booking time with a financial advisor. That first meeting will help you lay out your current financial scenario, short- and long-term goals, and how to get there. You'll feel a sense of accomplishment every time you meet with your advisor and inch closer towards your goal.
Don't know where to look for one? AdvisorSavvy has you covered. It's our business to connect thousands of Canadians with certified financial advisors daily. Connect with a financial advisor today!
Read More: 10 Steps to Financial Freedom