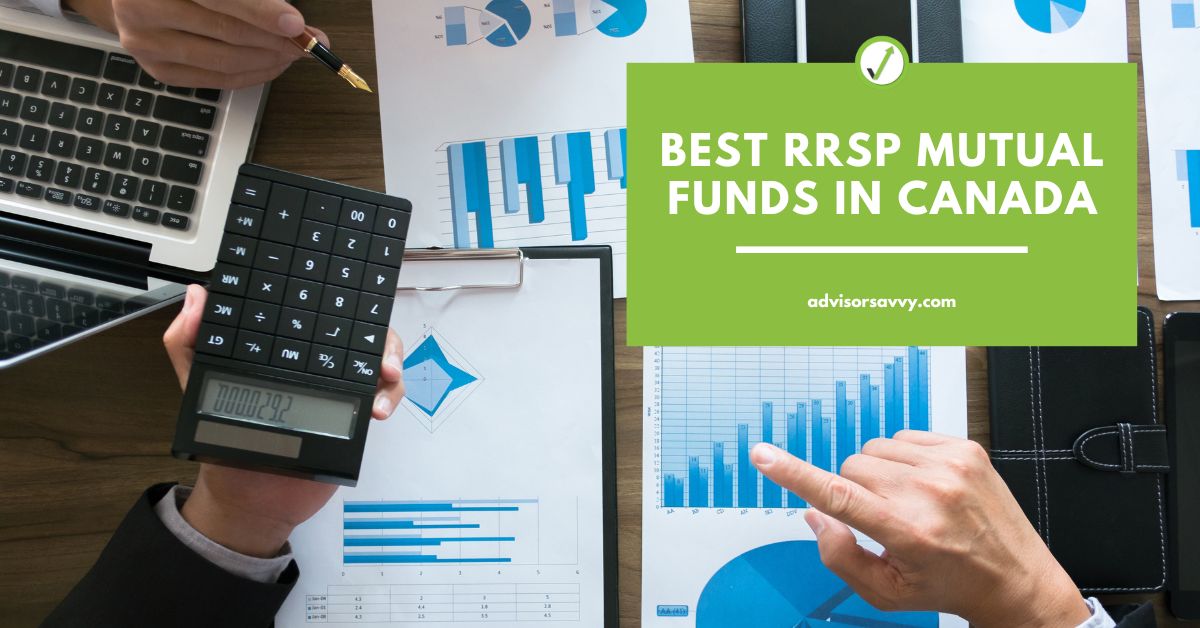 Mutual funds remain to be a popular investment in Canada. And what's better? You can invest in mutual funds through your RRSP to help build your retirement savings. If you're considering investing, here's our list of the best RRSP mutual funds in Canada. We'll also explore the different types of mutual funds and what to consider when choosing one of these investments. Continue reading to learn more.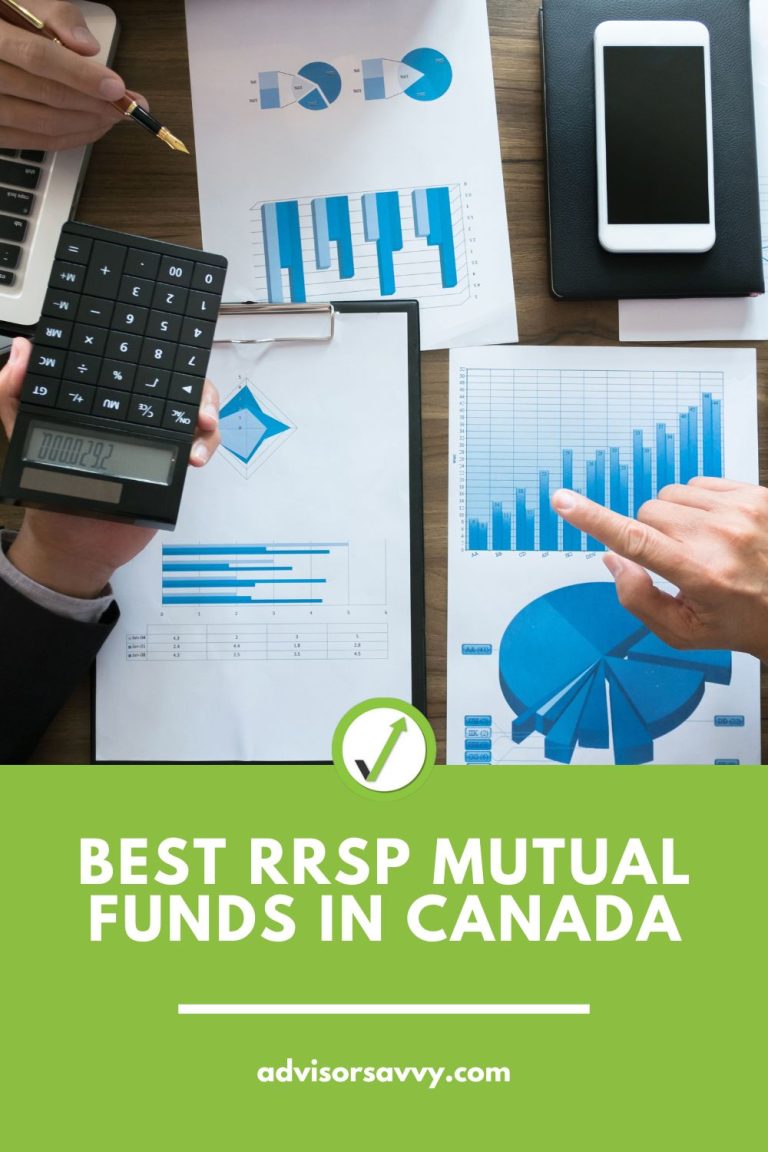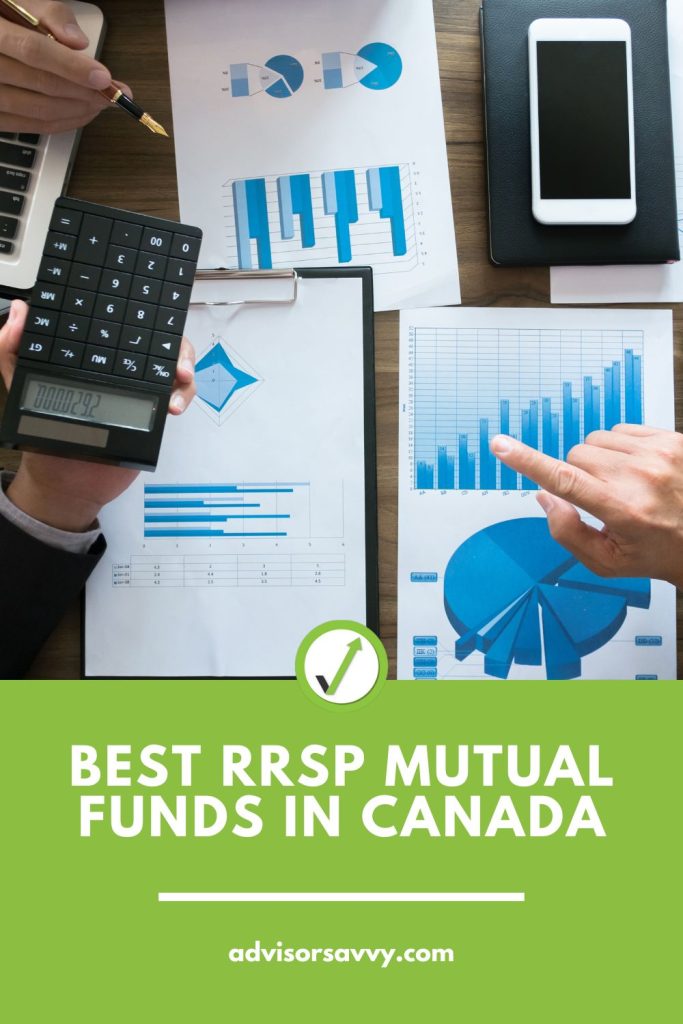 What are RRSP Mutual Funds?
Let's first talk about mutual funds. Operated by a group of fund managers, they are professionally managed investment portfolios that consist of money pooled from a variety of investors. The fund manager selects a variety of assets or securities. These can include bonds, stocks, and more.
Each fund has a specific objective, such as to generate income, achieve high growth, or to track an index. The fund manager chooses securities based on the goal of the fund. There are more than 5,000 mutual funds in Canada, carrying different degrees of risk and covering a variety of niches. They're typically operated by investment companies that charge a management fee in exchange for managing the fund on the investor's behalf.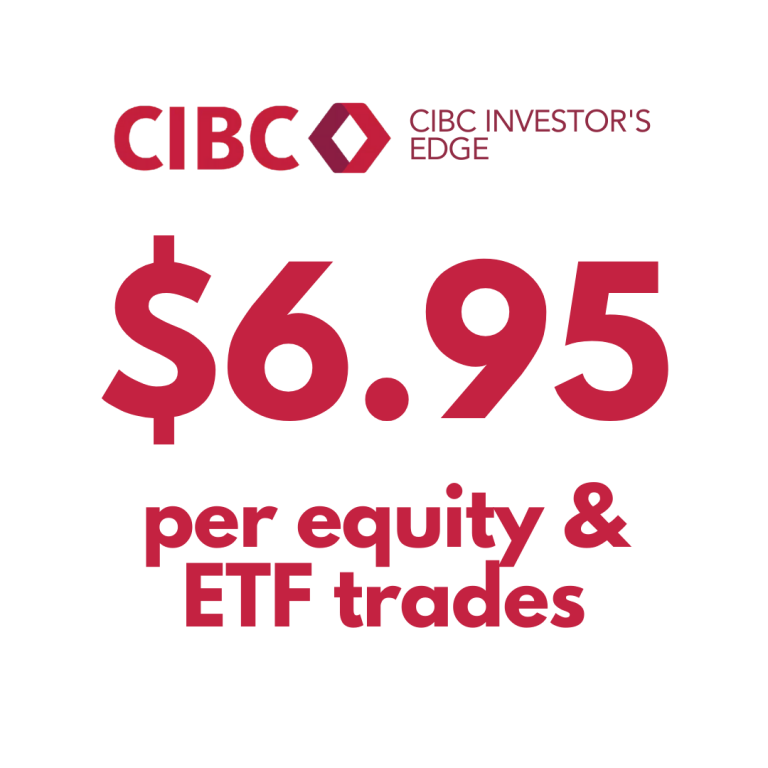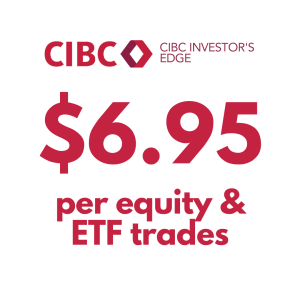 CIBC Investor's Edge Offer
CIBC offers a low $6.95 per equity or ETF trade
On the other hand, RRSPs are a type of tax-advantaged retirement savings plan available to Canadians. It allows individuals to contribute a portion of their income each year tax-free, thus reducing the amount of taxes one pays per year. The money deposited in the account grows tax-free until it is withdrawn, at which point it is considered income and is taxed. This would happen when the account holder reaches retirement age and begins to use their accumulated savings. RRSPs can hold many types of investments including mutual funds.
Bringing it all together, a RRSP mutual fund is a mutual fund that's held within a RRSP. By investing in a mutual fund in your RRSP, you can watch your money grow tax-free. Once your retirement savings grow, you can eventually use it to support your lifestyle in your golden years.
Related Reading: 10 Best Mutual Funds Canada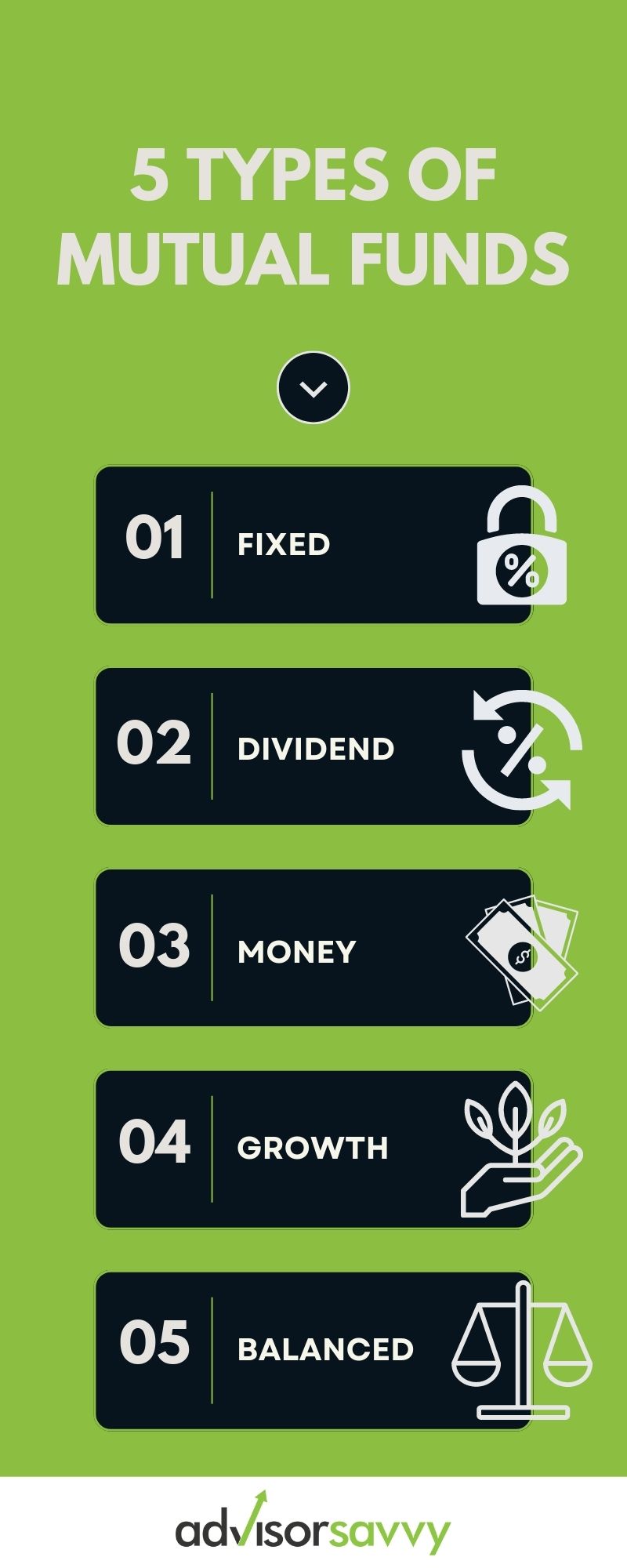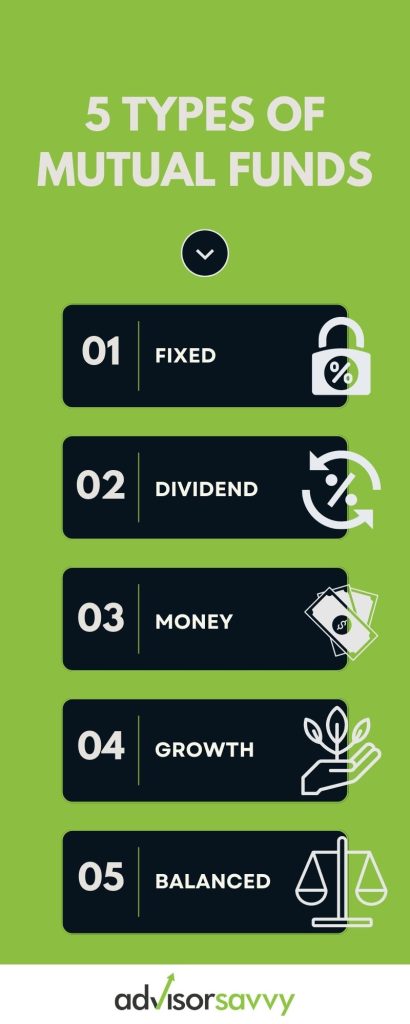 Different Types of Mutual Funds
There are a variety of mutual funds available on the market. Let's take a look at some of the main ones below.
1. Fixed Income Mutual Funds
As the name suggests, these funds are designed to offer a regular, stable income. They typically invest in high-quality securities issued by corporations and governments. Known to be secure, but fixed income mutual funds may fluctuate a little.
2. Dividend Mutual Funds
These funds invest in dividend-paying, profitable companies and are suitable for investors interested in a regular source of income.
3. Money Market Mutual Funds
These mutual funds invest in interest-bearing instruments for a short period of time. They are considered an alternative to term deposits and bank accounts. Most invest in the domestic market but some may also add foreign securities.
4. Growth Mutual Funds
Also known as equity mutual funds, these funds focus on high growth investments. While there is an opportunity for high returns, you're also exposed to higher risk.
5. Balanced Mutual Funds
Balanced mutual funds invest in a combination of bonds, equities, and money-market instruments. These funds offer regular income combined with capital growth.
Related Reading: 5 Best Money Market ETFs in Canada
5 Best RRSP Mutual Funds in Canada
1. RBC Select Very Conservative
Perfect for investors interested in a long-term investment, this mutual fund combines assets that offer regular income with a reasonable chance of capital growth. Currently, the fund has about 70% invested in fixed income, 11% in Canadian equities and 9% in US equities. The remaining is invested in other global equities and real estate. The fund has been growing at a decent pace. In fact, anyone who had invested $10,000 ten years ago in the fund would have over $16,500 today.
RBC Select Very Conservative can be a great pick for investors who want peace of mind. It comes with a fixed fee of 1.69% and is considered a reliable option.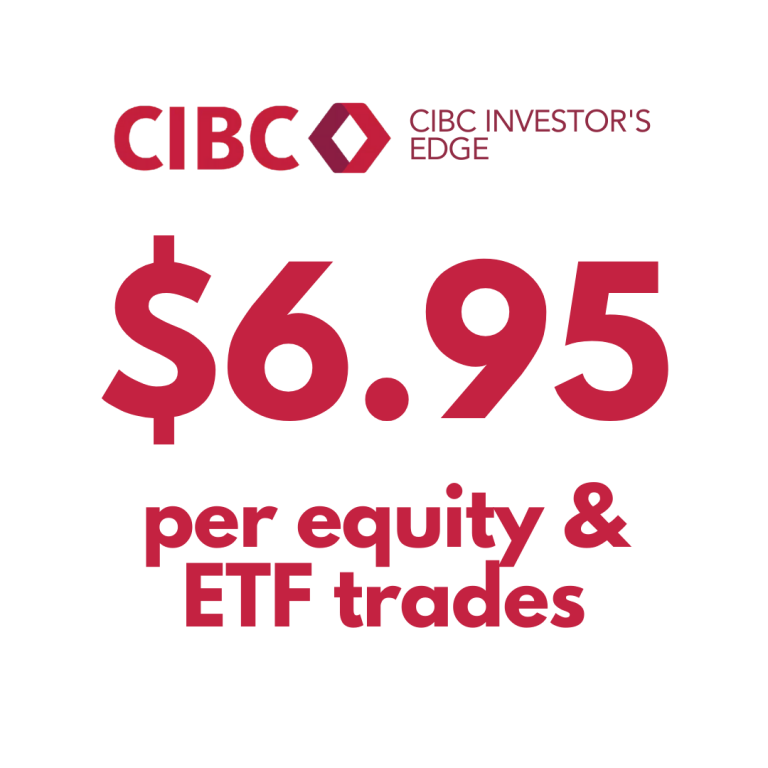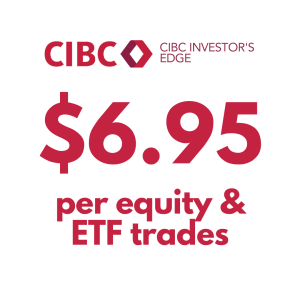 CIBC Investor's Edge Offer
CIBC offers a low $6.95 per equity or ETF trade
2. Dynamic Power Balanced Series F
Said to be among the best RRSP mutual funds Canada, Dynamic Power Balanced Series F has a YTD return of 4.7%. However, like most other funds, it did not perform well in 2022 due to economic constraints. However, it performed well during the pandemic scoring 15.9% in 2020 and 20.7% in 2021. Anyone who had invested $10,000 in this fund 10 years ago would have about $18,500 today — nearly double the initial investment.
Dynamic Power Balanced Series F can be a great option for investors looking to take on a little extra risk. In addition, it's invested mainly in Canada at 73%.
3. Mawer US Equity A
This can be an excellent mutual fund for investors interested in the US market as it consists of US assets. It has been in existence since 1992, making it one of the oldest and most popular mutual funds of its kind.
The fund invests in only US entities, including treasury bills. It concentrates on short-term investments and seems to be focused on well-known names such as Microsoft Corporation, Visa, and Amazon. Eligible for RRSP, this fund has a management expense ratio of 1.14% and net value of $72.78 per unit.
Mawer US Equity A appears to mirror the S&P 500 Index. Consider this option if you are interested in US investments.
4. Dynamic International Dividend Private Pool Series F
Dynamic International Dividend Private Pool Series F is a unique mutual fund as it does not include Canadian companies and only invests in foreign countries. In fact, the fund does not seem to have any US investments either. Some of the top investments include Nestle, Evolution Gaming Group and Moet Hennessy Louis Vuitton.
Dynamic International Dividend Private Pool Series F can be a good option for people who want to diversify because they are already invested in the US and Canadian markets.
5. Scotia Partners Growth Portfolio Class Series A
Scotia Partners Growth Portfolio is an RRSP eligible mutual fund known for including different asset classes, including cash and US equity. It aims to achieve a balance by including income producing and long term appreciating assets with a bias towards capital appreciation. It is primarily invested in foreign equity, then equally invested in Canadian equity and fixed income.
Scotia Partners Growth Portfolio is a new name as it only launched in 2016 and doesn't have much history compared to other mutual funds. However, the fund is considered safe since Scotiabank is a reliable name in the country. Although, the cost of this fund is substantially higher than other options.
Related Reading: Top 5 TFSA Mutual Funds in Canada
How to Choose the Best RRSP Mutual Fund in Canada
At the end of the day, choosing an investment is a personal decision. You have to consider your financial goals and what's best for you. Here's some tips for choosing the best RRSP mutual fund in Canada, which can be used for any other investment decision as well.
Setting Investment Goals
Knowing why you wish to invest in RRSP mutual funds will help you choose the best RRSP mutual fund in Canada. For example, look for a fixed income fund if you are interested in receiving regular income. Similarly, look for capital gain focused funds if you want to invest money for a long period of time.
Understanding Risk Tolerance
No fund offers guaranteed results but some are less risky than others. Look at your financial situation and calculate how much risk you can afford to take before choosing a mutual fund. In addition, consider your appetite for risk — some are comfortable taking big risks while others prefer to play it safe. Mutual funds can be anywhere from less risky to moderate to very risky.
The relationship between risk is positive, high risk equals high reward. Although, there's also a chance you might experience a high loss as well. On the other hand, when risk is low, returns are low. It's important to keep this in mind so you can not only diversify investments, but also diversify risk.
Diversifying your Portfolio
Diversification can be a great way to mitigate the risk and reduce your chances of mass loss. Look for mutual funds that invest in different niches. For example, if you are already invested in a fund that invests in the Canadian market then look for a fund that concentrates on the European market. Or if you're already invested in natural resources, consider investing in retail.
Researching and Comparing Funds
Do your research and compare factors such as past performance, investment strategy, net asset value (NAV) and establishment date. Some experts argue that NAV and establishment date do not matter. However, the general consensus is that new funds are less reliable and that NAV can be a good indicator of how likely you are to make money. In addition, also look at who manages the fund. The manager's experience and track record can help with your decision making.
Tax Implications
Taxes are not cheap in Canada, be sure to understand how you will be taxed. Investors typically have to pay a variety of taxes such as capital gains tax and investment income tax. RRSPs can be a great way to protect against these taxes though. But remember, RRSP withdrawals are taxable. In addition, some mutual funds are tax efficient. In other words, they're designed to reduce the tax burden.
Fees and Expenses
Mutual funds charge management and administration fees, which can impact your bottom line. Look at the fund's expense ratio, which is the percentage the fund charges in fees. Lower expense ratios can result in higher returns over time.
Do Mutual Funds Maximize RRSP Returns?
Mutual funds can be a great addition to your RRSP. But they do not always maximize returns as that depends on factors such as the fund's performance, your investment goals, and management fees. Still, they offer several benefits such as diversification and adequate returns. If you don't already have a mutual fund in your RRSP, consider adding one!
Are RRSP Mutual Funds Good?
RRSP mutual funds are reliable investments that have stood the test of time. Whether or not mutual funds are ideal for you depends on a variety of factors, such as your existing RRSP portfolio and retirement saving goals. However, many Canadians benefit from mutual fund investments, so chances are you will too!
---
Need help deciding what to add to your RRSP portfolio? A financial advisor can help. Fill out this quick questionnaire to find your perfect match today!
Read More: How to Invest in Mutual Funds in Canada