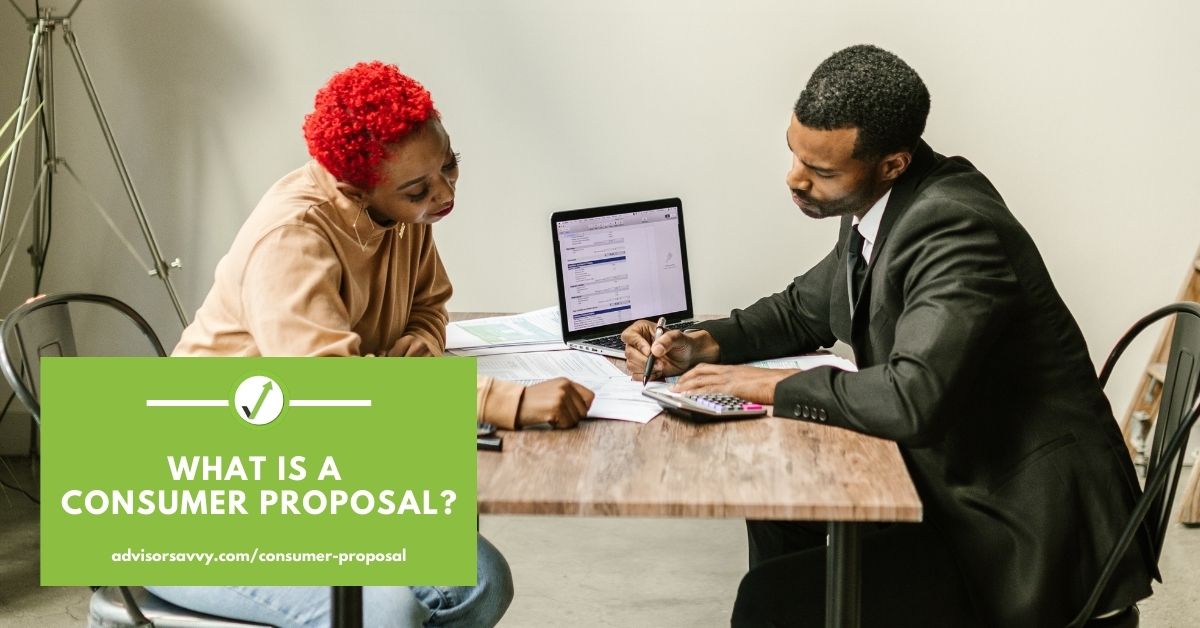 Financial troubles happen. You might not be expecting them, but life happens. And if it feels like you're alone in it, you're most certainly not. A recent survey from Equifax found that the average Canadian's debt is sitting at just over $20,000. When you're in over your head, and cannot shake your debt, it's likely that the first thing you'll think of is bankruptcy. But there's an alternative that'll stop creditor phone calls and put you on the path to rebuilding. Meet consumer proposals.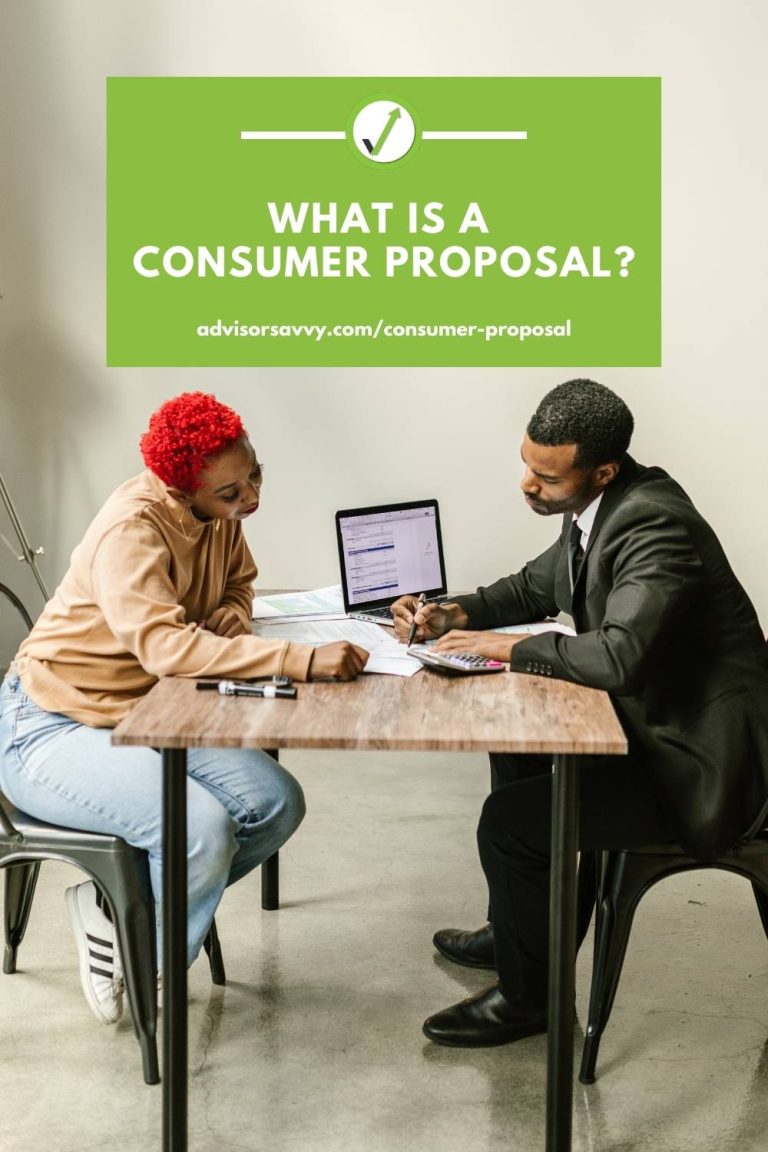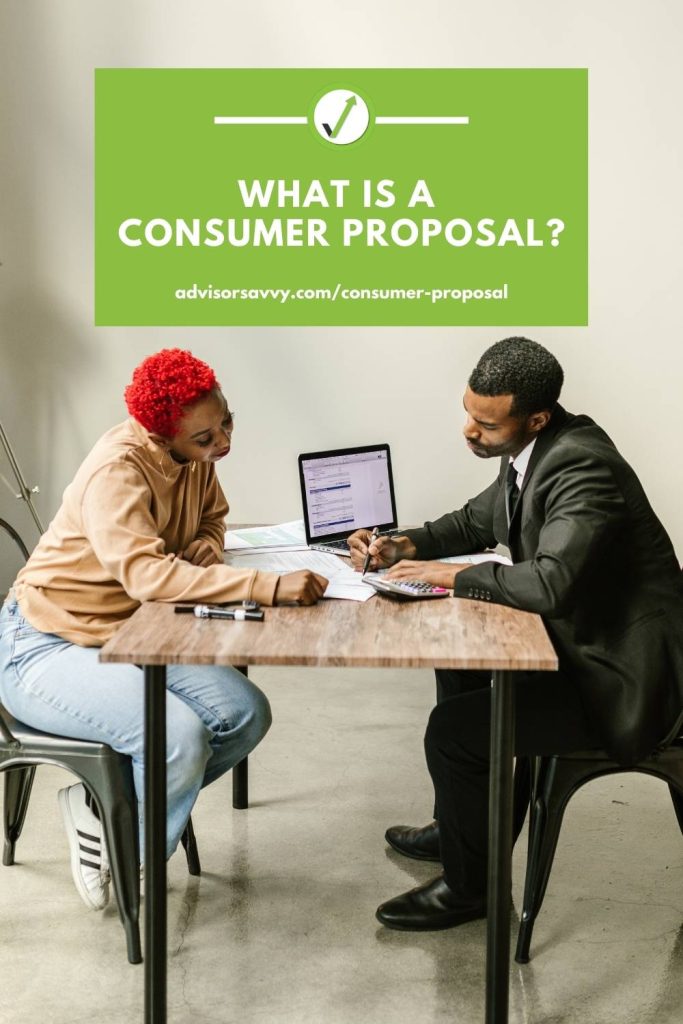 What is a consumer proposal?
Consumer proposals are an often-overlooked alternative to bankruptcy.
In a nutshell, it's a negotiated settlement with creditors. With a professional, you'll negotiate a manageable monthly payment schedule (typically over a one- to five-year period) so your creditors are able to recover at least some of what they're owed.
Consumer proposals do not involve your assets/possessions, though they do affect your credit score. They're also a legal process that will stop creditor action — i.e. all those phone calls and interest charges.
Most of all, consumer proposals are often referred to by experts as Canada's "best-kept secret" when it comes to debt relief.
How does a consumer proposal work?
You'll start with an initial consultation with a Licensed Insolvency Trustee (LIT). Keep in mind that working with a federally-licensed LIT is the only way to get a consumer proposal. Here, you'll take a look at your current finances, including assets, liabilities, income, and expenses. What information do you need to have ready for this conversation? Our LIT partner Bromwich + Smith outlines the following:
Do you have any prior insolvencies?
Do you have a garnishee or do you have creditors threatening you with a garnishee?
What is the total amount of your unsecured debt?
What assets do you own? Prepare to list their value and any balance owing.
What is your marital status and family size?
Do you have any Registered Savings Plans?
What are your sources of income, and their amounts (if any)
From here, your trustee will work with you to figure out a proposal for your creditors that works within your budget. Once agreed on by both you and your creditors, this amount is locked in. This is an extra incentive to consider a consumer proposal since you'll know exactly what you owe and what your monthly payments look like.
When your proposal is submitted to your creditors and filed with the Office of the Superintendent of Bankruptcy (OSB)*, two things happen. First, creditor action — for instance, consistent phone calls or even lawsuits — stops. Second, creditors have 45 days to accept or reject your proposal. Creditors will typically accept if they'll be getting more than they would from a bankruptcy.
Fast forward a few years, and you'll hopefully have some degree of a foundation to move on with your life, debt-free.
*Remember: this is a federally-legislated, legally-binding process!
What are the fees for consumer proposal?
You'll pay no administrative or professional fees directly to the Trustee or their firm. Costs involved are paid from the consumer proposal funds and are subject to a government-mandated tariff.
Can creditors reject a consumer proposal?
As mentioned above, creditors will typically accept if the proposal is more than they would receive in a bankruptcy. Working with your LIT will make sure this is the case, so flat-out rejections are pretty rare!
When your proposal is filed, as mentioned above, creditors have 45 days to vote on it. If they accept? Your proposed amount and time length are set and you'll start payments. You'll be responsible for making these payments on time, you'll retain your assets, and you'll need to attend two financial counselling sessions.
If they reject the proposal, you do have options. First, you can renegotiate the terms. Second, you can withdraw your proposal and file for bankruptcy or pursue another form of debt relief. Finally, you can withdraw and file again in the future.
If one or more creditors are owed at least 25% of the total value of the proven claims, they can request a creditors meeting. At this meeting, creditors will vote on whether to accept or reject your proposal. As the OSB explains, the number of votes corresponds to the total dollar value of the proven claims. Here's the example they give:
If the proven claims total $150,000, and if the creditors who vote to accept the proposal are together claiming at least $75,001, then the proposal will be deemed accepted and all other unsecured creditors must accept it as well.
One thing to keep in mind? If you miss three payments, your proposal can be automatically annulled. You'll have 30 days to revive it, or you can go to court to reinstate, or pivot to filing bankruptcy.
How to qualify for a consumer proposal
According to the Office of the Superintendent of Bankruptcy Canada, if your (individual) total debts do not exceed $250,000 — excluding debts like a mortgage — a consumer proposal might be a good option.
It might also be the route to take if you, according to Bromwich + Smith:
Have experienced income loss because you've lost your job, sickness, or injury
Can only make minimum payments, if any payments at all
You've maxed out your borrow-potential
Rely on credit for everyday expenses
Can't afford interest payments
That said, the best option, if you have unmanageable debt, is to get in touch with a LIT. They can help you find the best solution, be it a proposal or another avenue.
Consumer proposal vs bankruptcy
Bankruptcy really is the top way of getting rid of debt when you absolutely cannot manage it anymore. When you're in that position, though, feels extremely isolating, emotional, and scary. It's almost like a scarlet letter you feel you're carrying around.
As mentioned above, a consumer proposal is a great alternative. It isn't as harsh on your credit report, you can start rebuilding your credit sooner with the help of your LIT, and you simply have more wiggle room.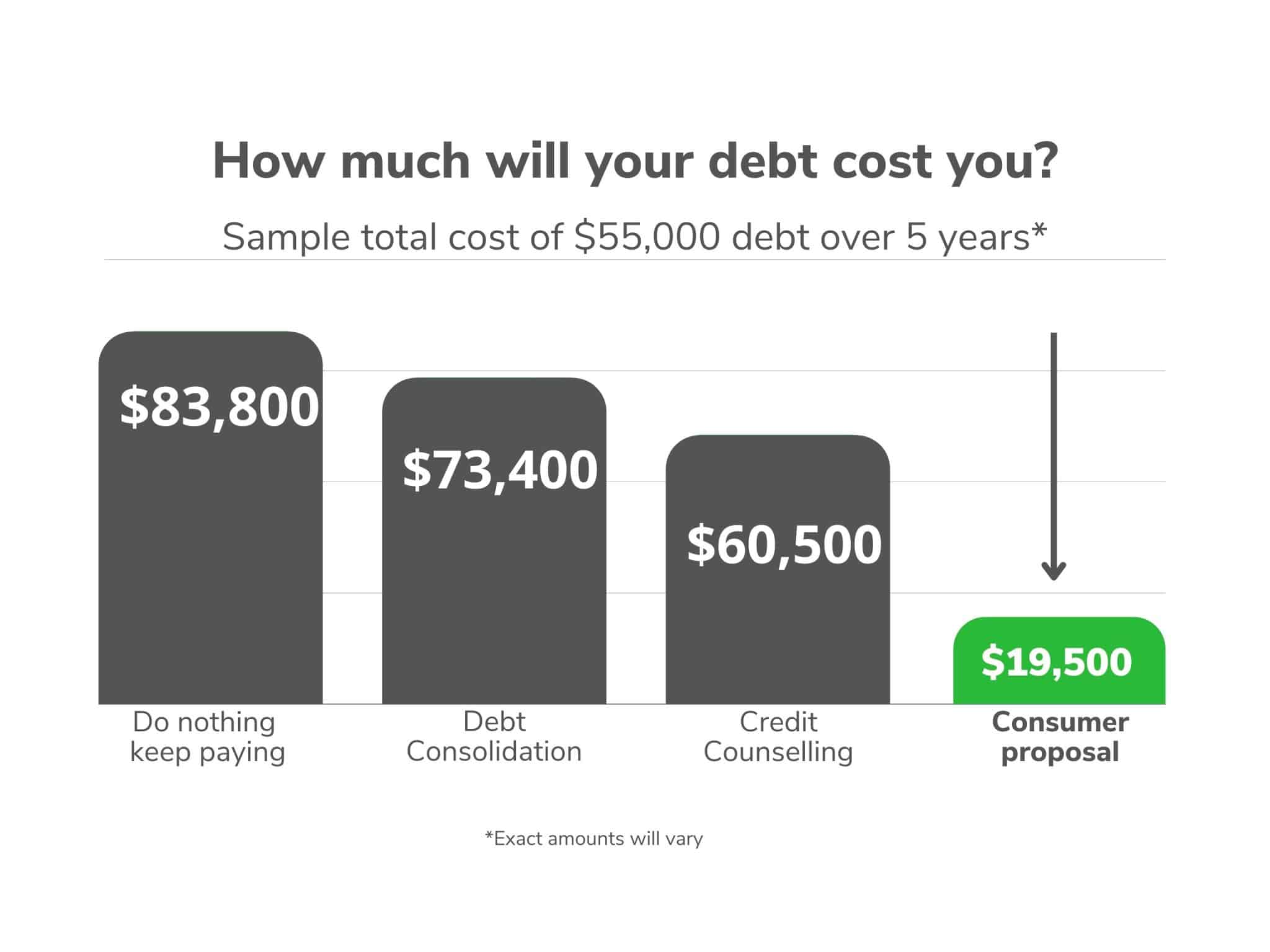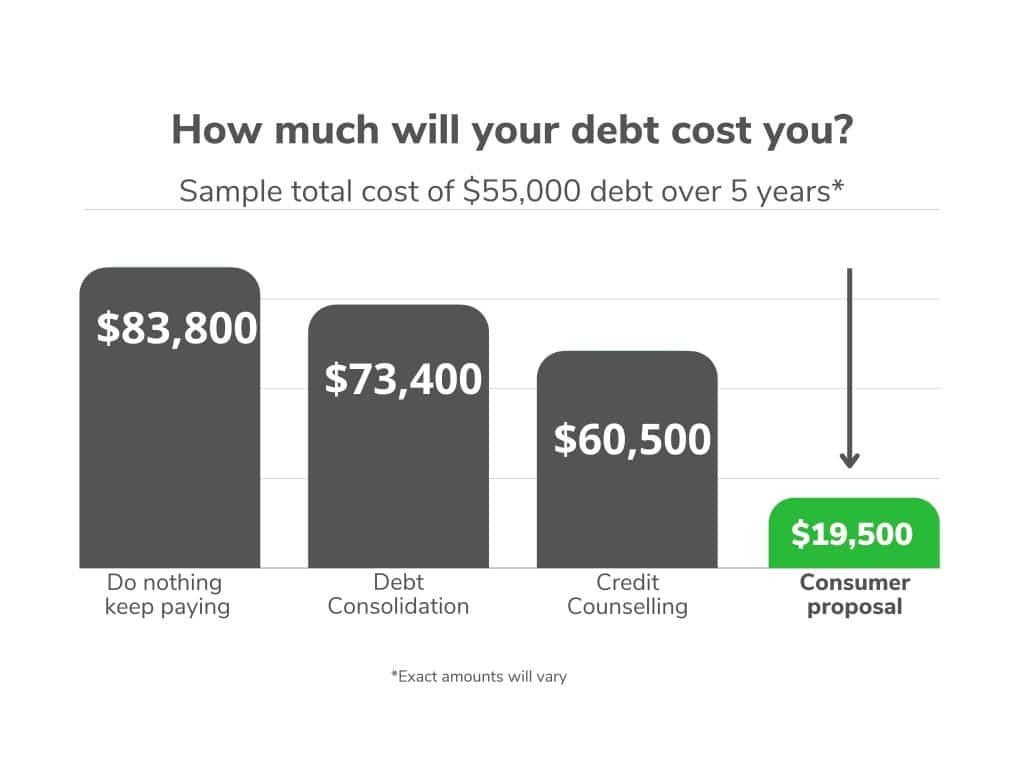 Related Reading: What is Debt Consolidation?
How many times can you file a consumer proposal?
Essentially, as Bromwich + Smith explains, there is no limit to the number of times you can file a consumer proposal. There are no additional costs to a second or third proposal, considering that they are always based on your current financial picture — mostly, your ability to pay.
That said, you can't file two proposals at the same time. Once your first proposal is finished, if you need help with new debts, you can file again. There is also an option, if your (second) debt is too high, to collapse or amend your proposal and re-file.
Meanwhile, a second bankruptcy will take longer to discharge and could cost you more. A third bankruptcy will mean a trip to court to apply for a discharge.
What happens when you pay off a consumer proposal?
First off, give yourself a pat on the back! You've worked hard to give yourself a fresh start and rebuild your financial foundation. Once you've finished your proposal and two counselling sessions, you'll get a certificate of completion.
As Taz Rajan of Bromwich + Smith explains, "I have heard lots of myths and rumours that if you sign into a Consumer Proposal it will ruin your credit rating and you will never be able to qualify for credit again. Rest assured, this is a myth."
Credit is a part of everyday life. Shortly after you file and while you're working on your proposal, you can access some types of credit. According to experts, one way to start building your credit score fast is with a credit card.
Here's a video from Bromwich + Smith, featuring credit expert Richard Moxley, discussing credit after a consumer proposal or bankruptcy.
How long does a consumer proposal stay on a credit report?
When you go through a consumer proposal, an R7 rating goes onto your credit report. This will stay in place for three years after you complete the proposal.
Working with your Licensed Insolvency Trustee, from here you'll be able to start rebuilding a foundation for restoring your credit.
Bankruptcy, on the other hand, gives you an R9 rating. This stays on your report for six years after your bankruptcy is complete. If you've been bankrupt before, it'll be on your credit report for 14 years.
How long after a consumer proposal can I get a mortgage?
After working hard to complete your proposal and finally getting yourself on the road to better financial footing, you might be in a position to buy a home.
When it comes to mortgages after a consumer proposal, it's mostly in the hands of the lender, explains Bromwich + Smith. Big banks and the Canada Mortgage and Housing Corporation ideally like a two-year gap between proposal completion and applying for a mortgage.
That said, if you have managed to get at least 20% of the purchase price as a downpayment — alongside proof of well-paying, steady employment — you'll probably be ok to start the process sooner.
Is a consumer proposal worth it?
Constant phone calls. Endless letters. Your already-overwhelming stress of having unmanageable debt is being compounded by neverending debt collectors.
Imagine the relief you'd feel if these just stop.
Getting out of debt is always going to be an emotional process that will take some degree of work. No matter what, if you're facing unmanageable debt, your best option is getting in touch with a LIT.
Think that a consumer proposal is the right step for you? Working with Bromwich + Smith, we have a team of Licensed Insolvency Trustees in our roster of financial professionals, ready to help.
---
Your financial situation is unique, and we can help you find the best advisor or Licensed Insolvency Trustee for your needs. Just fill out our short questionnaire.