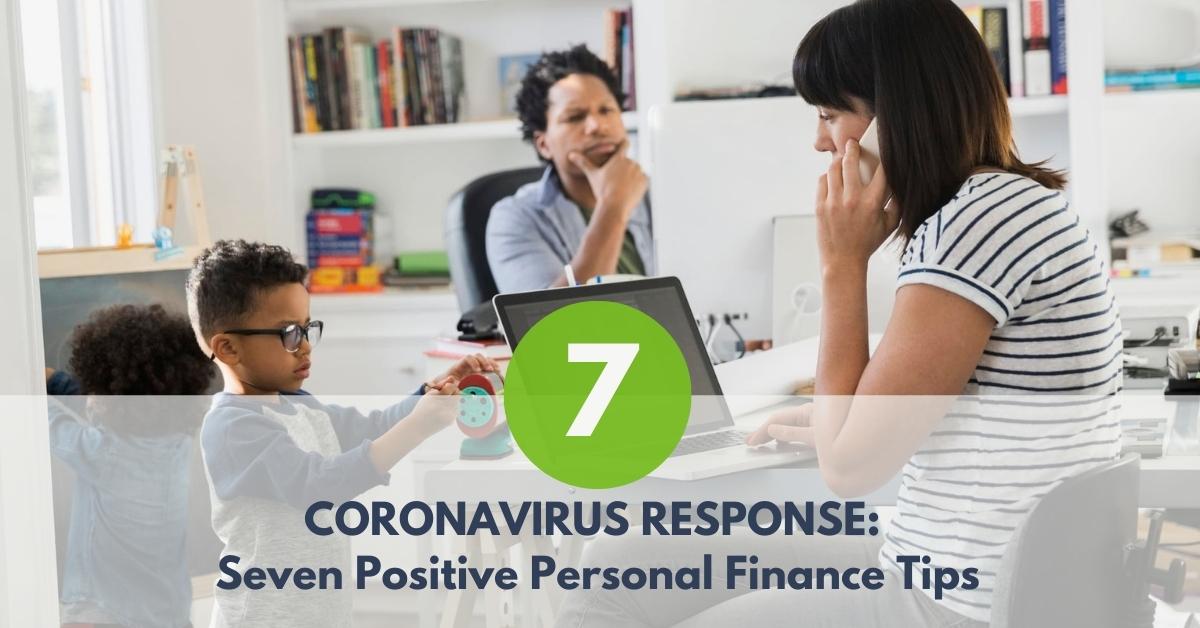 It seems everyone, everywhere has been affected in some way – big or small – by the COVID-19 pandemic. Many people are feeling at the mercy of forces they can't control, especially concerning personal finances. Obligations may seem heavier than ever.
There is no way to predict when current circumstances will improve for the long-term. However, there are options to reduce personal finance worries and take back control. Let's look at seven proactive measures you can take now to improve your situation.
1. Reduce car insurance costs:
Many insurance companies in Canada are initiating rebates and reduced rates on vehicle insurance because stay-at-home limitations mean decreased miles driven for work or pleasure, with lowered potential for collisions.
If your provider has not yet shared information on monthly premium reductions, ask how your fees can be reduced.
One option if you have two vehicles is to drive one vehicle and park the other; the parked vehicle could be covered only for fire and theft, potentially netting savings on monthly premiums. Your provider may have other suggestions that can save you money.

2. Consider re-mortgaging:
Winston Churchill once said, "Never let a good crisis go to waste". That may sound facetious but there is much wisdom behind the words.
Mortgage rates have trended lower due to Coronavirus implications. This is a great opportunity for those with existing mortgages to compare the rate they are currently paying with rates available now.
If the gap is significant – for example if your rate current rate is 5% versus potential 2.79%. That kind of differential can deliver meaningful savings if you terminate the existing mortgage and refinance.
Keeping the same amortization period – for example, 25 years – but at a lower lending rate will translate to lower monthly payments. This will help to free up cash for you to use for other priorities.
To assess if re-mortgaging makes sense for you, compare the penalty for breaking your existing mortgage. This penalty is usually a minimum of 3 months' interest. This could easily be paid back over the term of a new mortgage (variable or fixed-rate 2-year, 3-year, or 5-year mortgages).
If you find the refinancing process daunting, a mortgage broker can advise on what's viable and help you get the best deal.
3. Consolidate debt:
Government programs are being put in place to help individuals and businesses (more on that below) and banks are offering to defer payments during the pandemic. However, there has been no reduction in the rates charged on credit card debt. Many people are paying up to 20% or more in interest on consumer credit cards.
Now is the time to look at options for consolidating high-interest debt at lower rates to facilitate paying down your debt faster. This option makes it easier to keep pace with minimum payments. If you are remortgaging, you may qualify for sufficient funds to enable consolidating your consumer debt within a low-rate mortgage.
If you don't have that option, banks may be willing to provide interest relief with a lower-interest line of credit or other options to ensure you can continue to support your debt-load.
Globe and Mail personal finance columnist Rob Carrick reported in a March 23rd Globe article that credit counsellors advocate being proactive in contacting your lenders if you're having financial difficulties. "Go to your bank before it comes to you with ideas about how to address your debt problems," Carrick notes.
A further insightful tip was provided in a recent LinkedIn post by Preet Banerjee, Founder of Moneygaps.com. Banerjee advises checking if you might have unknowingly signed up for balance protection insurance. If you find that you do have balance protection and have lost your job, you can make a claim so that your monthly payments are covered. Preet indicates that many people don't even know they signed up. This is likely because balance protection is a product that has tended to be sold confusingly or aggressively.
The bottom line is that anything you can do now to better manage credit will help you weather the pandemic more positively.
4. Look for savings:
Many gyms and other lifestyle businesses have suspended membership payments for the duration of the stay-at-home timeline. If cancellations aren't automatic, negotiate to suspend payments until your regular activities can resume.
Be sure to check your credit card or bank statements to verify that you aren't continuing to pay for services that you're not using.
And this isn't the time to hoard customer loyalty points. If you've got points on Air Miles or Shoppers Optimum, for example, go ahead and lower your grocery store, drug store, and even gas fill-up bills by cashing in benefits now.
Are you saving points for airlines or other travel? If you can redirect your points earned for cash rebates or reward gifts that's probably wise given that reward trips are not currently feasible.
5. Leverage creativity:
Creative thinking can alleviate boredom and add to your bottom line, whether by a few dollars or a few hundred dollars or more each month.
If you have hobbies of any kind that can be transformed into side hustles this is a great time to get a jump-start. Maybe you're skilled at carpentry or refinishing furniture. Use 'downtime' to tackle a few projects that could be ready for sale when restrictions ease.
Online buy and sell groups are alive and well. You can take the opportunity to sell unwanted items all while invoking safe distancing during transactions.
It's also a great time to get creative with DIY projects you've been putting off around home. Instead of 'hiring it done', you can save money by doing anything from gardening and landscaping to an interior décor refresh.
6. Plan ahead for peace of mind:
COVID-19 has highlighted how quickly unforeseen things can happen. This can leave families scrambling if Powers of Attorney and wills are not in place.
Many Canadians are unprepared. We avoid the topic of death or we fear that creating a will might be too expensive. Now is the time to change that thinking and be prepared.
For those with major assets or complicated personal circumstances, working with a lawyer is likely still the best option to create end-of-life documents.
However, for most of us who have more straight-forward needs, a reliable on-line will creation service enables legal documents to be completed simply and inexpensively. Willful takes you through a step-by-step process that takes about as much time to complete as having a coffee break.
And thanks to a recent decision by the Ontario government, wills in Ontario can be witnessed virtually during this emergency period.
7. Budget for a 'new normal':
Stepping back from day-to-day activities can provide a new perspective. The pandemic has forced many of us to take a hard look at our spending habits.
Did you net significant savings because the extent of your entertainment budget is paying for Netflix while primarily staying at home?
Are you finding that deliver-to-home fresh food kits are saving you money because you are wasting fewer groceries?
Has buying lottery tickets on-line instead of randomly at the corner store made you aware of how much you're spending to gamble?
Have you saved a lot because you've been making your favorite cappuccino at home?
The 'new normal' created by the Coronavirus experience may include adjustments to our relationship with money and our spending habits so that we can live well on less.
Carrick recommends creating a "war-time family budget". This includes a view of money you can expect to receive in the months ahead, expenses that must be paid, and ones that can be deferred.
"Now, it's up to households to find ways to cut costs. One way to dive into this process is to grab two or three of your most recent credit card statements and look at recurring costs. Run a search-and-destroy mission on every cost you can't justify in current conditions," Carrick advises.
Intentional budgeting and spending is something that can be continued long after the COVID-19 crisis to ensure better financial stability.
Meantime, for more insights on how to cope with financial challenges during the pandemic we've compiled some online resources below. Stay informed – and stay safe.
Advisorsavvy Recommended Resources for COVID-19 Crisis:
Government COVID Resources for Businesses
Government COVID Resources for Individuals
Summary of National and Provincial Benefits compiled by CTV and CBC
Personal Finance Coronavirus Resources
Shelley Grandy is President and Founder of Grandy Public Relations Inc.